Fatal Conflict
(2001)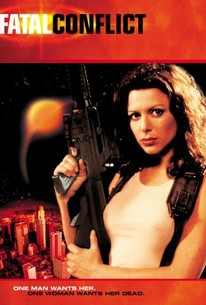 AUDIENCE SCORE
Critic Consensus: No consensus yet.
Movie Info
Direct-to-video auteur Lloyd A. Simandl directs Kari Wuhrer in this silly sci-fi exercise. Wuhrer portrays Sasha Burns, who must use all of her powers to help Governer Crombie (Daniel Fleischer-Brown) stop a spaceship from crashing into (and therefore destroying) Los Angeles. In an attempt to keep the audience from noticing the thin plot, the director has included many women-in-prison film clichés and given them a futuristic twist.
Critic Reviews for Fatal Conflict
There are no critic reviews yet for Fatal Conflict. Keep checking Rotten Tomatoes for updates!
Audience Reviews for Fatal Conflict
A vengeful psycho and sister get busted for running an emerald mine, and then take over a spaceship hatching an evil plan to destroy the City of Angels, Los Angeles, by crashing the spaceship right into the heart of the city. As this day of destruction gets closer, one sexy rebel fighter, played by the beautiful Kari Wuhrer (of Anaconda, Eight Legged Freaks and Kissing a Fool) becomes the only force that can stop it by sneaking unto the bad guy's spaceship and sabotaging it! The movie is definitely low budget, but the effects aren't bad as you get to see the typical women prison with lots of pretty girls where every inmate is scantily clad with their prison number tattooed to their beautiful behinds.
½
You might be a redneck if at 9 am on a Saturday morning you are watching this movie. Its about the future 2029, when money and gold are worthless and emeralds are the thing to be holding, that and a little of the opening sequence of 1.2 covered beautiful butts that are mining the emeralds. From the looks of thing will be not Fat Butts in 2029. Anyway we have a somewhat interplantet space chase. Once captured evil man and his sister are on the loose with the biggest baldest guys in the world who each get eliminated by our tiny (But not so tiny) space hero Kari Wuhrer. Its not so bad that you fall asleep, but you might find yourself wondering why did I get this movie, as for me it was on the pawn shop shelve for $2.00, But as bad as it is its good enough to get 3 1/2 stars.
Bruce Bruce
Super Reviewer
Fatal Conflict Quotes
There are no approved quotes yet for this movie.