Father of the Year
(2018)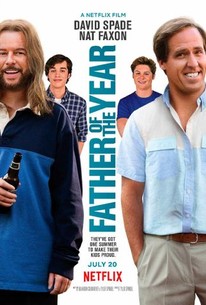 Father of the Year Videos
Father of the Year Photos
Movie Info
When a drunken debate between two recent college graduates about whose father would win in a fight is taken seriously by their idiot dads, jobs are lost, relationships ruined, futures destroyed, and best friends come of age as they come to grips with who their fathers really are. Starring David Spade, Nat Faxon, Joey Bragg, Matt Shively, and Bridgit Mendler.
News & Interviews for Father of the Year
Critic Reviews for Father of the Year
Audience Reviews for Father of the Year
David Spade is very funny as the disgruntled dad but all the other moments feel heavily forced. The film wears out its welcome about twenty minutes from the conclusion, which is a giant cliché. The younger cast try but the material is not at a high standard so they get left out in the dark. I can't help but feel this is Sandler material, it doesn't have that Spade vibe and you could easily see Sandler slotting into the Spade role. I'm a Spade fan and he is the only likable part of this film, much like Sandler was to That's my Boy. The film has gas for the better first part but once the story leaves the focus of Spade, it tends to fall into the generic storytelling category. This film had potential and is only worthy of watching if you have a Netflix account. 28/07/2018.
Brendan O'Connor
Super Reviewer
½
So, the Adam Sandler Netflix curse strikes again. What I mean by that is that not only did he score a multi-million dollar deal (I'm assuming) for himself (and his Happy Madison production company) to star in Netflix original movies, but he also came through for his untalented friends. Kevin James got his own Netflix original movie and, this one blew me away when I saw it, his own stand-up special. A stand-up special whose description mentioned Kevin James' long-awaited return to stand-up. Name me one person who was eagerly anticipating this return to stand-up comedy for as unfunny a man as Kevin James??? Let me clarify that, name me one person not part of James' posse looking forward to this? There was no one. And, oh no, he didn't just come through for Kevin James. He also came through for the worst of his untalented buddies. He got Rob Schneider his own Netflix original series. No one, in their right mind, would give Rob Schneider his own television series unless they were contractually obligated to do so. Schneider is awful and he just needs to quit his day job and actually find something he's good at. And, of course, David Spade gets to star in this movie. Though, to be fair to Spade, as far as Sandler's untalented buddies, he's better than Schneider and James. He can do a fairly decent job at playing smarmy characters. That doesn't mean I think he's a good comedic actor, because I can't recall the last time Spade made me laugh. Honestly, it'd probably have to be before he left SNL. I'll be honest, I haven't seen any of his movies with Chris Farley, though I assume that he'll play the straight-man to Farley's insane antics. That's neither here nor there. The Sandler Netflix curse extends himself, in this movie, past more than just Spade, however. Adam's wife, Jackie, is in here and she was fine, she wasn't in it to affect the quality one way or another. But, oh no, the nepotism doesn't stop there. Jared Sandler, Adam's nephew, is in this movie as well. He's the guy who joined the biker gang. Look, I'm glad that Jared's role was kept to a bare minimum, he's really in very few scenes, because there's just something about this guy that is very off-putting. I don't know what it is, but I just wanna punch his face whenever I see it. It doesn't help that he's not particularly funny either. I just have no desire to see this guy's face anywhere and, again, I'm glad his appearances were kept to the barest of bare minimum. As far as this movie is concerned, however, how about we move on with the review. This movie's concept is basically 'my dad can beat up your dad'. To say that this is an uninspired concept would be an understatement. It's not that there's been a ton of these movies out there, at least that I'm aware of, but it just screams desperation. Like we ran out of ideas and just picked the first one that came to mind that we, theoretically, could do something with. And, to their credit, the movie isn't actually just about Wayne and Mardy beating each other up after Ben and Larry (their sons) get into a drunken debate about whose dad would win in a fight. Because, honestly, if it had just been surrounded around the fight, it would have probably been an even worse movie. But, again, to their credit, they decided to use that set-up to explore the relationship between Ben/Wayne and Larry/Mardy and how, throughout the film's events, they bond and grow closer to each other. Now, having said that, I don't wanna give them too much credit, however, because, if I'm being honest, this movie wasn't exactly funny. I don't think they give you enough background on why Ben and Wayne aren't exactly close. Wayne's a bit of a dimwit and he, after getting into a fight with Mardy (while drunk), gets himself and his son arrested and does cost Ben his dream job in New York when they find out about their arrest. But, other than that, Wayne is not a perfect father but I think that, by and large, he means well. He just doesn't know how to behave properly. So, again, I don't really get Ben's 'animosity' (if it can be called that) towards Wayne. Larry doesn't really have many issues with Mardy, but he does believe that his father once took down a serial flasher. I guess that's...something??? I don't know, there's just a lot of slapstick and forgettable gags that rarely, if at all, even garnered a chuckle out of me. There's certainly a few funny gags here and there. Like when Mardy reveals that he didn't actually take out the flasher, the flasher instead took him hostage and made Mardy drive around while he flashed from his sunroof. It's not like it's a hilarious gag to begin with, but it is pretty funny to think that Mardy is so weak-willed that he couldn't say no to driving this guy around while he attempted to break a Guinness World Record for flashing people. It's silly, but it works in this context. Larry's neighbor (who's gotta be in her mid-to-late 70s) lusting after him and, of course, making sure he's over 18 was somewhat decent as well. Larry and Mardy doing MDMA and then hiding out in the drug dealer's parents' storm shelter was, again, not great, but it works decently well within this context and this world that these characters inhabit. The thing is that this movie has a fairly decent cast as well. Everyone played their roles well enough, it's just that the scripting doesn't really make the best use of its cast as one would hope. Not that this is a cast on the level of Little Miss Sunshine, but I felt that this film's issues were unrelated to them. Well, with the exception of Jared Sandler. That guy sucks. Though, to be fair, he wasn't a part of the main cast, so he shouldn't actually count. I was gonna give this movie two stars prior to Wayne scoring Ben a meeting with the company in New York. This scene is cringe inducing. So, basically, the CEO of this company is in Taiwan and the meeting takes place through VR (virtual reality, for those of you living under a rock). Ben and Wayne get their own avatars in this world, a monkey and a kangaroo, respectively. The CEO is a polar bear. First things first, the CG for this VR segment is absolutely horrendous. I understand that they probably didn't have a ton of money for this part of the film, but it looked as if someone who was just learning the basics of computer animation animated it. And that's just learning the basics, not actually dominating them. It was so terrible. And then Wayne started to overreact, because what he thought that the VR pelican that was attacking his avatar was actually, really, attacking him. Basically, it's just an excuse for a bunch of physical comedy where Spade, or a stuntman at least, falls all over, destroys tables, punches people in the office because he's trying to punch the pelican in VR. It's honestly really fucking bad. I suppose you could laugh at how bad it is, but I just didn't. I think what I feel is more shame that anyone would think that this is actually good enough to make the final cut. Honestly, there had to be another way to get to where they wanted to get, which is Ben blowing off the job because the CEO is a...dick, I guess, and deciding to stay home with his girlfriend and father. It didn't need to be THIS specific, and terrible, VR scene. You could have had the meeting like any normal meeting and, let's just say, that the CEO looks down on Wayne for the way he is, for how unkempt he looks and how he speaks. It would have accomplished the same thing and, at the same time, would have felt more appropriate for Ben to blow it off. Essentially, what the CEO did, in the final cut, is just scare Wayne by making his avatar into an alien. That's all it took for Ben to blow off the job. He must not have wanted the job that bad I guess. Oh, and yea, there's a boring and generic romance involving Ben and Meredith. It's not that good honestly. What else can I say about this movie? I don't know, I wouldn't say I liked it, but I didn't hate it. Until the VR scene at the end, this is a perfectly watchable movie. Not great, not good, not funny, but watchable. The VR scene brings that down a lot. That's, really, the only reason I'm giving it 1.5 stars, the VR scene really is as bad as you can imagine. The cast is decent, but the movie wastes them with an unfunny script. And that is what, to me, hurts this movie the most. The VR scene is terrible and all, but what really does this in is a lack of a real strong comedic tone. It's just not that funny of a movie. This could have been considerably worse than it was and, thankfully, it wasn't, but there's no reason to watch this. It doesn't offer much of anything.
Jesse Ortega
Super Reviewer
Father of the Year Quotes
There are no approved quotes yet for this movie.