Fatherland
(1994)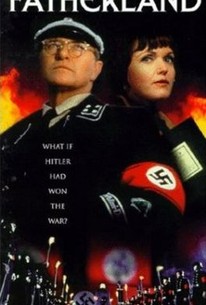 Movie Info
What if Germany had won WW II and successfully taken over Europe? Based on a novel by Robert Harris, this compelling drama is set in just such a world, 30 years after the Germans defeated the Allies at Normandy on D-Day. By this time, the country is known as Germania and since the war it has been at odds with the United States. In hopes of bringing peace, the two government leaders, Hitler and president Joseph Kennedy Sr. are planning a historic summit in hopes of obtaining detente. It's a tense situation and matters are made worse when an SS detective and an American reporter begin investigating a series of murders. Together, they discover a horrible and long-suppressed secret: Hitler and his regime were responsible for the deaths of over six million Jews during the war. Armed with this damning information, the two must hurry to the summit to stop President Kennedy from making a terrible mistake.
Critic Reviews for Fatherland
Audience Reviews for Fatherland
½
What if the Nazis won the war? Director Christopher Menaul answers that question with his made for TV movie Fatherland. The plot is terrific and it is well layered and keeps you interested due to the idea of its plot. The acting is great and it is a well crafted film that looks good for a TV movie. There are a few flaws here, and at times, the script does reveal its limitations, however there's plenty to enjoy due in part to its entertaining story, which rises above its flaws. The strength of a post war victorious Third Reich is really what makes up the film's flaws and the cast do a fine job with the material at hand. This film may be hard to take due to the fact that it presents the idea of victorious Nazis, but that's what makes it interesting. Enjoyable thriller that you watch if you can take into account that is purely a work of fiction. The film has a well paced story, good acting and enough thrills and drama to make this one worth seeing. Rutger Hauer is what keeps you involved and he gives a strong performance. However the low-budget does show a bit and by today's standards, it looks fairly Dated. Those are really my two complaints as well as the fact that some aspects could have been done better. Christopher Menaul delivers a very good film that relies on a great idea, and it works well enough to be an entertaining two hours of mindless entertainment. Fatherland is a well made, but dated TV movie; however that shouldn't negate your choice in seeing this.
½
Pretty good. I would have liked to see Man in the High Castle which a lot of this seems based on.
Sean Scobie
Super Reviewer
Fatherland Quotes
There are no approved quotes yet for this movie.