Fathers' Day
(1997)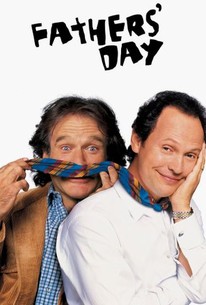 TOMATOMETER
AUDIENCE SCORE
Critic Consensus: A maudlin misfire, Father's Day manages the difficult task of making Billy Crystal and Robin Williams woefully unfunny.
Movie Info
The stage is set for comedy when two middle-aged men (Billy Crystal and Robin Williams) struggle to overcome their considerable differences to find the runaway son of the ex-lover who has just informed them that one of them is the boy's father.
Critic Reviews for Fathers' Day
Audience Reviews for Fathers' Day
Dear Billy Crystal, Robin Williams, and Ivan Reitman: WTF!!!!! Seriously! How could you mess this up so friggin badly!? SIncerely, Disappointed and Angry BAsed on a French product that I have no doubt is far better, this is the story of two men who, 17 years earlier, slept with the same woman. After all these years, her teenage son has gone missing, and she enlists the two men to help get him back. Why them? Well, one of them might be the father. She's not sure. The guy who has been the kid's father all these years may also be the father, but no one knows for sure. So what we have here is what should be a madcap comedic romp as these men try to hunt for this kid who might be their illegitimate progeny. What this actually is is a painfully unfunny, annoying, tedious, and awful f*cking mess. I think I may have legitimately been amused no more than like 3 times maximum, if that. I don't understand it either. You'd think that Williams and Crystal would be a comedy dream team, but both men just deliver their typical respective shticks, offering nothing new, or, more importantly, funny. This drags on and on with predictability out the wazoo, and I was happy when it finally ended. It's not charming, it's not interesting, and the only things keeping me from giving it a worse grade are the inclusion of Sugar Ray and a way too brief but amusing uncredited cameo from Mel Gibson. And maybe Williams's intro scene when he's on the phone. That's it. The rest of this just flat out sucks. The whole set up could be neat, but comes off as pointless and contrived. The subplot with Greenwood is pointless and rather needlessly cruel for his character and, though she's pretty, Nastassja KInski is terrible here. I'm ashamed for her, and that's not something that happens to often for me, so yeah, that says something. Bottom line: this is a pure waste of time, talent, money, and God knows what else. Not even out of curiousity do I think you should give this a look.
Chris Weber
Super Reviewer
Not Robin Williams at his finest, although it was funny in some scenes. Not that well plotted out either.
Bethany Murphy
Super Reviewer
One of those silly outrageous movies that is just funny so we don't care.
Sunil Jawahir
Super Reviewer
Fathers' Day Quotes
| | |
| --- | --- |
| Dale Putley: | For years I've thought about killing myself... it's the only thing that's kept me going. |
| | |
| --- | --- |
| Dale Putley: | That Man is insane! He has just bludgeoned me with a phone! |
| Dale Putley: | That man is insane! He bludgeoned me for no reason! |