Fathom
(1967)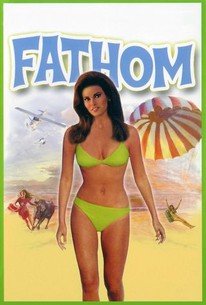 Movie Info
Raquel Welch breaks the surly bonds of Earth and loves every minute of it in this lighthearted spy spoof. Fathom Harvill (Welch) is an American skydiver touring Europe with a U.S. parachute team when she's approached by Douglas Campbell (Ronald Fraser), a Scottish agent working with American intelligence. According to Campbell, a triggering mechanism for nuclear weapons has gone missing in the Mediterranean, and Douglas wants Fathom to help find it. After encountering Chinese operative Peter Merriweather (Anthony Franciosa), Fathom discovers that Campbell is actually a private eye and that she's been tricked into helping him snag some jewelry. But what's the whole truth, and whose side is Fathom supposed to be on? ~ Rovi
Critic Reviews for Fathom
Audience Reviews for Fathom
Can you fathom Raquel Welch as a super spy? If so, watch Fathom! I think the strangest thing about this movie is that her name is Fathom, who names their girl Fathom, or is it some kind of nickname? Another question: why does Flixster say this movie is rated nc-17? It's not rated, and it doesn't deserve that rating anyway. Okay, so I thought this movie was a good spy flick, and I liked Welch as a spy too. It's a good movie.
As lightweight as the clothes on Raquel Welch's back. Wow, she really is a pretty bad actress, and Tony Franciosa's lame Burt Lancaster impersonation is more smarmy than charming. Nice scenery though, and that includes the Spanish locations.
Doctor Strangeblog
Super Reviewer
Fathom Quotes
There are no approved quotes yet for this movie.