The Favor
(1994)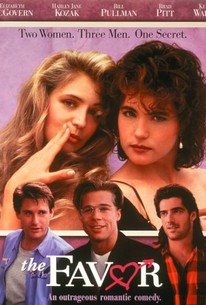 Movie Info
A long-running sex fantasy, and vicarious thrills are the basis for this lightweight comedy. For years now Kathy has been dreaming of making passionate love to her handsome high school sweetheart, Tom. Though she is in a humdrum, but perfect marriage to Peter, a college professor, and has two wonderful children, she continues to be haunted by Tom. Kathy is going to the class reunion. Tom will be there. Fearing that she will be unable to resist the temptation to enact her fantasy, Kathy asks a favor of Emily, her best friend. Emily is wild and free. She and her boyfriend Elliot, an artist, are always gallivanting around the world. Emily is to go to Denver on business. Tom is in Denver. Kathy asks Emily to take Tom out and seduce him. Then she is to report back to Kathy with all the gory details. In this way Kathy will fulfill her fantasy. Emily does this. Problems arise when Tom seems to be even better than Kathy imagined. Now she is tempted to see for herself.
Audience Reviews for The Favor
Fine romantic comedy that desperately wants to be ribald sex farce, it's just not played with the proper tone.
Dean McKenna
Super Reviewer
½
pleasant trifle nothing more, made before brad hit the big time.
The Favor Quotes
There are no approved quotes yet for this movie.