Fay Grim
(2007)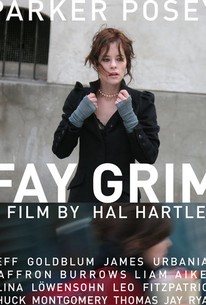 Movie Info
A single mother from Queens becomes unwittingly embroiled in international espionage in director Hal Hartley's sequel to the critically acclaimed Henry Fool. Fay Grim (Parker Posey) is determined to raise her 14-year-old son, Ned (Liam Aiken), so he won't be like his father, Henry (Thomas Jay Ryan), who disappeared seven years ago after accidentally murdering a vicious neighbor. As Fay's brother, Simon (James Urbaniak), serves time in a prison cell for aiding Henry in his daring escape, he gradually begins to suspect that the man who inspired him to take up writing in the first place is not the louse he appeared to be, but instead the keeper of some potentially explosive government secrets that, if made public, could prove quite dangerous. As Simon begins to explore the possibility that Henry's autobiography, "Confessions," contains coded references to a wide variety of international atrocities committed by governments around the world, the CIA contacts Fay to inform her that her husband was killed in a hotel fire in Sweden shortly after fleeing America, and that the French government is currently in possession of two notebooks containing drafts of "Confessions." Convinced that the notebooks contain information that could endanger the security of the United States, CIA agent Fulbright (Jeff Goldblum) convinces Fay to travel to Paris and retrieve Henry's property before the information falls into the wrong hands. Now trapped in the middle of a cross-continental con and thrust deep into the world of international espionage, Fay is about to find out that her ex-husband is not only still alive, but in more trouble than he could ever imagine. ~ Jason Buchanan, Rovi
News & Interviews for Fay Grim
Critic Reviews for Fay Grim
Audience Reviews for Fay Grim
½
Cast: Parker Posey, Jeff Goldblum, Saffron Burrows, D.J. Mendel, Liam Aiken, Jasmin Tabatabai, Chuck Montgomery, James Urbaniak, John Keogh, Claudia Michelsen Director: Hal Hartley Summary: When it's discovered that her deceased ex-husband's manuscript contains information that could threaten national security and implicate the government in a variety of conspiracies, Fay Grim (Parker Posey) is forced to travel to Paris and retrieve the book before it falls into the wrong hands. A follow-up to the critically acclaimed Henry Fool, this puzzling thriller from Hal Hartley also stars Jeff Goldblum and Saffron Burrows. My Thoughts: "It's an offbeat kind of film full of some odd, quirky characters. The story is OK and interesting enough to keep you watching, but it just wasn't anything special. Parker Posey, is what kept me watching this movie. She does a really great job in this film. I enjoyed Jeff Goldblum, in this as well. Thought him and Parker were quite funny in this. The acting in this film is a bit over the top, which makes the film seem even more silly. But I think it was the directors intention to have some of the scenes to come off that way. In the end, it was just an OK flick with some funny moments. If your a fan of Parker Posey, I would say have a go at this film."
♥˩ƳИИ ƜѲѲƉƧ♥
Super Reviewer
½
[font=Century Gothic]"Fay Grim" takes place seven years after Fay Grim's(Parker Posey) husband, Henry Fool, vanished after catching a flight to Sweden under an assumed name.(It's a long story, trust me. Or rather a long movie: "Henry Fool.") CIA Agents Fulbright(Jeff Goldblum) and Fogg(Leo Fitzpatrick) ask her if she has read any of Henry's journals which they believe could be a threat to national security. One notebook is in the possession of a publisher(Chuck Montgomery) who passes it along to Fay's brother Simon(James Urbaniak) who is in jail for helping Henry escape. Two more are in France and Fay agrees to retrieve them in exchange for Simon being released from prison, so he can home school her son, Ned(Liam Aiken), who has been expelled for a little underage fellatio...[/font] [font=Century Gothic][/font] [font=Century Gothic]Written and directed by Hal Hartley, "Fay Grim" is a convoluted mess of a movie with ill-defined characters. It's not that all of the necessary elements are not in place, just too many of them. To make matters worse, too much time and energy is given to trying to explain the MacGuffin. In the end, it is irrelevant whether the journals contain government secrets, the pornographic ravings of a madman or a great egg salad recipe. And whenever it feels like there is a coherent statement about the national security state on the horizon, the movie simply stumbles off into another brick wall.[/font]
I thought this film started out really strong, but as it went on it sort of got lost along the way. I thought the dialogue was great and I liked how the actors gave them their own spin on it. Parker Posey was fantastic in her role, and the supporting cast was really good as well. As I said the movie sort of lost it in the middle but in the end it picked up and it made for a good ending to a solid movie. Now I need to find Henry Fool.
Jesse Ortega
Super Reviewer
Fay Grim Quotes
There are no approved quotes yet for this movie.