The FBI Story
(1959)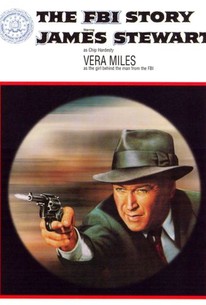 Movie Info
If Warner Bros.' pageantlike The FBI Story resembles an episode of Jack Webb's Dragnet at times, it's probably because the screenplay was by veteran Dragnet scrivener Richard L. Breen. The film meticulously details the history of the Federal Bureau of Investigation, from its formation in 1924 to the present day (1959, that is). The story is told through the eyes of FBI agent Chip Hardesty (James Stewart), who narrates the film. We see the FBI tackling such villains as the Ku Klux Klan, the mob, the Nazis and the communists. Subplots include the struggle by the federal agents to be given permission to carry firearms, a plight driven home when Hardesty's best friend (Murray Hamilton) is killed by gun-toting Baby Face Nelson (William Phipps). Offsetting moments like these are scenes of Hardesty's home life with his wife Lucy (Vera Miles), who at first opposed her husband's joining the bureau but who later becomesJ. Edgar Hoover's biggest fan. Excessively sentimental at times (it seems that the Hardesty family can never hold a party without receiving a terse telegram announcing yet another personal tragedy) and saddled with a rambling, stop-and-start continuity, the overall success of The FBI Story hinges upon its individual episodes, including a wowser of a pre-credits sequence involving matricidal mad bomber John Graham (Nick Adams). Since the film was made at a time when the FBI was considered to be of spotless reputation, don't expect to see any scenes of the bureau wiretapping civil rights leaders--or, for that matter, J. Edgar Hoover prancing around in drag.
Critic Reviews for The FBI Story
Audience Reviews for The FBI Story
Intriguing condensation of some the FBI's major cases.
Anthony Valletta
Super Reviewer
The FBI Story Quotes
There are no approved quotes yet for this movie.