Fear and Desire
(1953)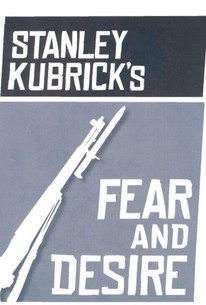 Movie Info
Legendary director Stanley Kubrick made his feature debut with this allegorical drama about war. Four soldiers whose plane has crashed discover they're behind enemy lines in an unnamed country. Desperate to escape, they decide to build a raft and travel up the nearby river into allied country. However, their presence is discovered by a local woman who stumbles across them in the woods, and they learn that an enemy general is nearby, determined to flush them out. Stanley Kubrick served as producer, director, screenwriter, editor, and cinematographer on Fear and Desire, which he made on a budget of only $40,000. One of the soldiers was played by Paul Mazursky, who later went on to a distinguished directorial career of his own. Kubrick displayed little enthusiasm for his debut feature later in his career, and is said to have attempted to prevent it from being screened on several occasions. ~ Mark Deming, Rovi
Critic Reviews for Fear and Desire
Audience Reviews for Fear and Desire
½
Kubrick's first (and little seen) feature is clunky and mishandled. It's fair to see that he loathed this film and did his best to keep it out of circulation forever; however, much like Killer's Kiss, one can really see the seeds of a budding phenom at work -- how he plays with chiaroscuro lighting, the unorthodox cutting between shots with different eye levels, and the instinctual way in which he always knows where to put the camera to inform not only the narrative, but his character's motivations, and by extension, their development. These early works signify a legendary director who perhaps hadn't quite figured it all out yet, but whose potential is through the roof.
Jonathan Hutchings
Super Reviewer
"It's better to roll up your life into one night and one man and one gun." - Sgt. Mac (Frank Silvera) in Fear and Desire Stanley Kubrick ended his feature filmmaking career with the underappreciated Eyes Wide Shut and started it with the now nearly extinct Fear and Desire. Of course in between Kubrick became an undisputed master of cinema; commanding film classics like Paths of Glory, A Clockwork Orange, The Shining and many more. His departure from being a Look Magazine photographer and exposition into his 'Odyssey' of narrative films was this story of four soldiers behind enemy lines. Set in an unnamed forest and transpiring during an unknown war, the movie opens to four men in the woods. It is revealed that these men are soldiers who have crashed their plane behind enemy lines. The leader of the group Lt. Corby (Kenneth Harp) wants to lead his men to the river build a raft and escape during night fall. The situation is tense as the men's very own fears and sometimes their desires collide with one another. Sgt. Mac (Frank Silvera) has a slight pessimism, Fletcher (Steve Coit) actually isn't that well characterized and Sidney (Paul Mazursky) is swiftly descending into insanity. The film was made for only $50,000, and it really shows in the way that there are few actors and even fewer settings. But there is very apparent bits of Kubrickian genius that poke through its rough exterior. For instance his name is all over the credits. Like many of his later films, Kubrick's perfectionism shines through with all the duties he took charge of being the film's director, cinematographer, producer and editor. There is also the earliest evidence of the trademark "Kubrick stare" shots like the ones with Malcolm McDowell in A Clockwork Orange, Jack Nicholson in The Shining and Vincent D'Onofrio in Full Metal Jacket. The stares occur during a scene between a crazed Sidney and the young girl (Virginia Leith) he has kept hostage. Fear and Desire is strictly for Kubrick fans, and devoted ones at that. Tracking down a copy of this flick is harder to find then a corn hater in Iowa. My experience in viewing the movie was reduced to a computer on my lap with a lucky-it-was-all-there, but horrible in quality YouTube video playing on my lap. Much like his other second short film Killer's Kiss, Fear and Desire is a buried treasure that Kubrickophiles will feel rewarded to have seen. Grade: C+ Reviewed by Ben Pieper on August 20th 2011
Ben Pieper
Super Reviewer
Stanley Kubrick's first feature film is also his least seen, mainly because until Kubrick's death, the film had been locked away in the vaults at his request. This should give you some idea as to the film's quality. It's not that Fear and Desire is a bad movie, it's just that it's still very amateurish (Kubrick was only 24 when he made it). Obviously, expectations wouldn't normally be high for a low budget, fifties movie about soldiers trapped behind enemy lines, but "directed by Stanley Kubrick" changes the nature of things quite a bit. Four soldiers from an "undetermined" country attempt to return to base after their plane goes down while on a reconnaissance mission. The four are of disparate personalities: the leader is pragmatic, the private is scared and on the verge of cracking, and then there's the gung ho sarge, who wants to take down a general. The group attempts to build a raft out of logs, they also kidnap a girl who was washing clothes in the river. They also kill some enemy soldiers with their bayonets and take their guns and dinner. They do some other things too. The characters with the disparate personalities do things and then react according to their personalities. It's weird, but the entire film feels like an extra long version of "The Twilight Zone" or perhaps "The Outer Limits" (two shows that would come about ten years after this film). Kubrick directs the action with a photographer's eye, but sometimes the acting just doesn't cut it and brings things down to unintentionally comical levels of maudlinism. It's all pretty standard fifties B-movie stuff.
Devon Bott
Super Reviewer
Fear and Desire Quotes
| | |
| --- | --- |
| Sidney: | It wasn't my fault! The magician did it. Honest! Prospero the Magician. First we're a bird, and then we're an island. Before I was a general, and now I'm a fish! Hoorah for the magician! The river... it's blood, Mac! Cold... cold... I'm going for a swim. Come on in, Mac! Listen to them... it's blood! |
| | |
| --- | --- |
| Narrator: | There is war in this forest. Not a war that has been fought, or one that will be, but any war. And the enemies who struggle here do not exist, unless we call them into being. This forest, then, and all that happens now is outside history. Only the unchanging shapes of fear - and doubt - and death - are from our world. These soldiers that you see keep our language and our time, but have no other country but the mind. |
| | |
| --- | --- |
| Lt. Corby: | Well, we have nothing to lose but our futures. |