Fear City
(1984)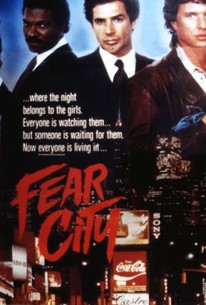 Movie Info
When the female strippers at Matt Rossi's (Tom Berenger) club begin to turn up dead, he enlists the aid of his ex-girlfriend (Melanie Griffith) and a local cop (Billy Dee Williams) in an attempt to catch the killer.
Critic Reviews for Fear City
Audience Reviews for Fear City
Thriller Fear City follows a psychopathic Grim Reaper killing strippers, and a stripper manager hunting him down. Both the protagonist and the antagonist have background stories. The protagonist was a pro boxer, who's career got cut off. A stupid and cliche background story, which gives the character to much of an invincible feel. The antagonist is a religious nut who's ridding the city of filth, I suppose it's better than just a business rival. This film is sexy galore, the strip club scenes contributed greatly to the film. Whenever the movie was feeling dry the audience can escape to a strip club, which creates a whole new atmosphere. I can appreciate people going to one as an escape now. Well this is until all the good strippers are killed/assaulted/scared for their lives. The kills in this film weren't intense due to how dumb they looked, with a white martial arts master holding nun chucks. The film doesn't have many thrills, but has enough pros to make it somewhat pay off.
Daniel Dolgin
Super Reviewer
½
Highlighted in the book "Bad Movies We Love" which is just the place for it and an apt description.Super cheesy mid 80's crime drama played straight but good for many unintentional laughs. Cast full of B actors this "suspense" thriller is full of dialogue that will have you laughing out loud especially since it is said in deadly earnest. Berenger is a decent actor and gives the best performance, not that the bar has been set too high here. Melaine is horrendously bad. The opening and closing title sequences including the music are classic examples of 80's techno-pop excess, that does however contribute to the squalid, trash wallow feeling of the entire enterprise. This is only for when you're in the mood for a guilty pleasure viewing experience.
Ferrara sleaze, plain and simple, but what great sleaze it is! Two co-owners of a strip bar decide to hunt down a serial killer who's been offing their employees. This is great stuff for those who are grindhouse fans, and I don't mean that friggin' Rodreguez and Tarantino shitheap.
Christopher Brown
Super Reviewer