Fear of the Dark
(2002)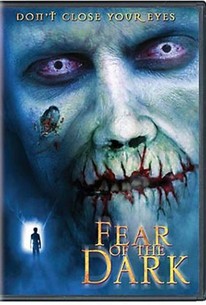 AUDIENCE SCORE
Critic Consensus: No consensus yet.
Movie Info
In this independent horror film from writer/director K.C. Bascombe (Swindle, The Contract), Jesse James plays Brian Billings, a young boy suffering from an intense fear of the dark. His older brother Dale (Kevin Zegers) thinks the phobia is childish and unwarranted, but when the power goes out while the boys are home alone, Dale begins to become aware of the true evil that does indeed lurk in their house when the lights go out. Fear of the Dark also stars Linda Purl and Rachel Skarsten. ~ Matthew Tobey, Rovi
Critic Reviews for Fear of the Dark
There are no critic reviews yet for Fear of the Dark. Keep checking Rotten Tomatoes for updates!
Audience Reviews for Fear of the Dark
Production companies will do anything to get people to watch their movies, that's why the trailer almost always looks good, and the description on the back of the box is so eloquently written, but how often does the film live up to the hype? In the case of Fear of The Dark, it doesn't even come close! 12 year old, Ryan Billings (Jesse James), has an acute fear of the dark and his whole family thinks he's crazy. His parents rarely go out, but on one stormy night they decide to do so, leaving Ryan home alone with his older brother, Dale (Kevin Zegers), who comes to realize, his brother isn't so crazy after all. A creepy cover, a cool trailer, and an interesting description lead me to this film, even with the PG-13 rating. Some of the scariest supernatural horror film were rated PG-13, so i convinced myself, this would be a good choice. While the film has no affiliation with R.L. Stine, it is as much a Goosebumps tale as every other one of his stories. I was worried about the PG-13 rating, when the film doesn't even live up to that. How the company convinced the academy to give this film anything more than a PG rating is beyond me. Fear of The Dark has got to be the most tame and dull horror film I've ever seen. That being said, kids would absolutely love it, but it wasn't marketed to them and the creepy cover and PG-13 rating is exactly what would have kept them from this film. As for the performances, the two young actors were as you would expect, both Jesse James and Kevin Zegers, have look resumes as child actors and have done a ton of films like this and know exactly what their doing. Fear of The Dark is market towards teens and young adults when it should be in the children section. If you have kid, this is the kind of horror film you want them watching. As for me, I was utterly disappointed and shocked that a film like this would be marketed towards young adults.
Todd Smith
Super Reviewer
This is a really good film for parents who have a rug rat that is afraid of the dark. The best actor in this film is Jesse James ( With a name like that how could he not be) aka Ryan Billings, and his facial expressions of fear are right on target, and I liked his little power light outfit and his Christmas light trap, think I will set one up in my bed room. Its a good family film, nothing that you will have to make Junior turn his head for, heck do parents do that anymore, I mean half the children under the age of 12 are watching the Simpson's every Sunday night. The best part of this film is the last 20 minutes in the basement where we see some good costumes and special effects, other then that a bore for anyone over 16. I am being nice in the 3 stars department.
Bruce Bruce
Super Reviewer
Fear of the Dark Quotes
There are no approved quotes yet for this movie.