Jet Li's Fearless (Huo Yuan Jia) (Legend of a Fighter)
(2006)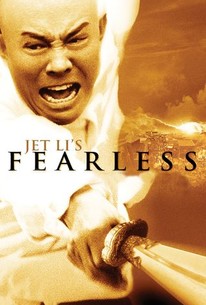 TOMATOMETER
AUDIENCE SCORE
Critic Consensus: Fearless is a brilliantly choreographed, beautifully filmed endcap to Li's quarter decade of epic martial arts glory.
Jet Li's Fearless (Huo Yuan Jia) (Legend of a Fighter) Photos
Movie Info
Fearless opens in Shanghai, China, circa 1910, when wushu master Huo Yuanjia (martial arts superstar Jet Li) prepares to battle one Japanese opponent, Tanaka (Shidou Nakamura), and three American opponents (Anthony de Longis, Jean-Claude Leuyer, and Brandon Rhea) in a massive tournament. The picture then cuts back to Huo's boyhood in the city of Tianjin, in North China, circa 1880, when his father forbids him from engaging in martial-arts training. He must therefore slip off and train covertly. Around 1900, Huo -- then in his twenties -- continues to fight in tournaments. His determination is such that his entire life begins to revolve around championships, and the prospect of becoming the top-ranked fighter in Tianjin turns into a die-hard obsession, despite the repeated warnings of his best friend, Nong (Dong Yong), to cut back. Huo ignores these admonitions, then turns conceited and ultimately refuses to hear an additional word of caution, until his arrogance leads to the death of a fighter and Nong's decision to abandon him as a friend. Driven into exile, Huo journeys to southeastern Asia, where he works alongside rice farmers and divests himself of conceit, then gently touches the spirit of a blind girl. When he finally returns to Tianjin, he has transformed, internally, into a different person altogether. A huge hit in Hong Kong when originally released into theaters in 2006, Fearless was often touted as Jet Li's final film in the wushu school of martial arts. The picture is based on the real-life story of Huo Yuanjia, founder of the Jingwu school of martial arts. ~ Jason Buchanan, Rovi
Critic Reviews for Jet Li's Fearless (Huo Yuan Jia) (Legend of a Fighter)
Audience Reviews for Jet Li's Fearless (Huo Yuan Jia) (Legend of a Fighter)
½
Fearless is based on the life of Huo Yuanjia, a martial artist who became the figurehead of Chinese national pride at the turn of the century. The format is all very familiar; a famous fighter becomes drunk on his own success until his arrogance results in tragedy leading to his downfall. He learns what is important in life and overcomes adversity to fight a final battle to restore the pride of his country. Yes, Rocky, The Karate Kid and a hundred others have followed this formula, but the fact that this is in fact based on a true story gives it much greater credibility. I would also have to say that, although I may be biased, the way the Chinese approach the subject matter is something akin to comparing a piece of artful, moving poetry to Hollywood's ham-fisted and tacky greetings card rhyme. Full of the kind of beautiful imagery you'd expect from a nouveau martial arts film and typical of the kind of superb action sequences you'd expect from Jet Li and Yuen Wo Ping (fight choreographer for The Matrix amongst others) it's yet another example of Asian cinema at it's finest. Addendum: I would have to recommend the Blu Ray edition of this film as not only does it look fantastic, but the director's cut restores 40 minutes of material cut from the centre section which although virtually action free, forms the heart and soul of the story.
Jet Li makes an exceptional performance in his final martial arts epic. Fearless is captured elegantly and is an emotional as well as action-packed picture. The film definitely puts a glorious conclusion to Jet Li's martial arts classics. 4/5
Eugene Bernabe
Super Reviewer
½
Exquisitely lavish is a good way to describe this Jet Li film, I thought this was some kind of silly action flick or another historical ancient Chinese dynasty film with more semi bald Chinese blokes mixed with a fantasy element, but boy was I wrong. Turns out this is actually a biopic of a famous martial artist by the name of Huo Yuanjia as we follow his life of training in the art of Wushu. I was slightly dubious as I started to watch this as many Eastern martial arts films tend to be very over the top with their fight sequences and use too much mystical hocus pocus over realism. To my joy this film is very down to earth and a very solid steady epic which clearly has had allot of time and effort put into it. The first thing that hits you is the attention to detail on everything, the sets and costumes look beautiful down to the last tiny prop, all the cast look authentic for the era and the acting is most definitely top dollar. The story is slowish but never dull as you are slowly fed much Eastern wisdom and philosophy that really is a joy to hear. Li's soft calm voice is perfect with this in his role as he portrays the arrogant fighter in his prime, a man coming to terms with the beauty of life, kindness and honour and finally a wise compassionate mentor...but never at any point is Li an unlikeable person. As for the fighting...the real crux of the matter for many, its pretty darn fine basically, what you have here is some stunning fast fluid and realistic fights displaying Wushu in its finest form from Li. I was so pleased not to see lots of obvious wire work or cgi nonsense to interfere, that's not to say there is just a small amount of wire work to add a small element of magic but it just about works without ruining your suspension of disbelief. There is a strong 'MMA' undercurrent in this film also of course, the whole point was how Yuanjia challenged foreign fighters from all over the world and different disciplines to demonstrate and prove Wushu. This entails fights against boxers, lancers, kickboxers, fencers etc... and is possibly the first example of 'MMA', I have no clue whether it was or not but it certainly seems so which is interesting. I have to give much kudos to this film and its direction from Yu, I was pretty surprised this came from Yu seeing as his previous films don't come close to this type of epic offering. I also must admit to not being a Jet Li fan and find many of his films too similar plus he really looks quite mean facially if you ask me hehe got evil eyes, never the less this film is damn high quality with superb work in every area making it a visual treat with stoic performances.
Phil Hubbs
Super Reviewer
Jet Li's Fearless (Huo Yuan Jia) (Legend of a Fighter) Quotes
| | |
| --- | --- |
| Huo's mother: | Fear and respect are not the same. |
| | |
| --- | --- |
| Huo Yuanjia: | Competitions can help discover our weaknesses and lead to self discovery. |
| | |
| --- | --- |
| Huo Yuanjia: | The tea does not judge itself. People judge the tea. |
| | |
| --- | --- |
| Huo Yuanjia: | Revenge only brings more bloodshed. |