Feast of Love
(2007)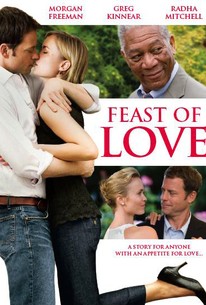 Movie Info
A group of friends living in suburban Oregon come into contact with a sensual free spirit named Chloe (Alexa Davalos), who changes their outlook on life in the most unexpected of ways in this ensemble drama adapted from the acclaimed novel by author Charles Baxter. As college professor and writer Harry Stevenson (Morgan Freeman) sits quietly in the coffee shop of his tight-knit Oregon community, the local residents all around him all become swept up in the magical mischief of love. Coffee shop owner Bradley (Greg Kinnear) has a bad habit of looking for love in all the wrong places, and his relationship with wife Kathryn (Selma Blair) is a prime example of that penchant. Meanwhile, frazzled real estate agent Diana (Radha Mitchell) becomes ensnared in a taboo affair with a married man (Billy Burke), lovely newcomer Chloe attempts the formidable task of romancing troubled soul Oscar (Toby Hemingway), and Harry's own wife, Esther (Jane Alexander), affectionately tries to get through to her husband as he wrestles with the pain of losing a loved one. Fred Ward, Alexa Davalos, Stana Katic, Toby Hemingway, and Erika Maroszán star in a whimsical tale of intersecting lives inspired by Shakespeare's +Midsummer Night's Dream, and directed by Robert Benton (Nobody's Fool, The Human Stain).
News & Interviews for Feast of Love
Critic Reviews for Feast of Love
Audience Reviews for Feast of Love
½
I enjoy interconnected stories. This movie had about 5 or 6 different relationships going through various issues, and I didn't even mind the ending (too often in movies like this, everybody lives happily ever after).
Thought it would be much better than it was with the outstanding cast. Sadly, it was just another average romcom that didn't really do anything for me except bore me. Morgan Freeman will always be an amazing actor though.
Bethany Murphy
Super Reviewer
I really liked this movie. Yet another really nice romantic, heart warming drama. Greg Kinnear and Morgan Freeman really do a wonderful job, which really adds to this movie for me.
Cynthia S.
Super Reviewer
Feast of Love Quotes
There are no approved quotes yet for this movie.