Fellini: I'm a Born Liar
(2003)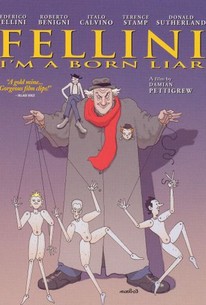 Fellini: I'm a Born Liar Photos
Movie Info
Federico Fellini was one of the leading figures of the international cinema in the 1960s, whose dreamlike images and indelible characters made La Dolce Vita, 8 1/2, and Juliet of the Spirits among the most acclaimed films of that era. Fellini himself was a character as unique as any he created for his films, an expansive and outsized visionary who could be either a pleasure or a terror to work with. Fellini: I'm a Born Liar is a documentary on Federico Fellini's life and work by filmmaker Damian Pettigrew, who combines vintage interview footage of Fellini, new conversations with those who worked with him (including actors Donald Sutherland and Terence Stamp), and excerpts from Fellini's films (some of them previously unseen outtakes) to create an insightful portrait of a remarkable creative mind.
Critic Reviews for Fellini: I'm a Born Liar
Audience Reviews for Fellini: I'm a Born Liar
This documentary is not for the uninitiated Fellini viewer. If you want to understand the ultimate puppet-master, it's best to view his films for they're all autobiographical. Rather, this film shares Fellini's insights on the artistic impulse and creative process: availability; openness to experience; spontaneity; structure; memory; narration; verisimilitude. The Maestro compares film making to painting because of the interplay of color and light. Donald Sutherland aptly summarizes his greulling directorial process: He (Fellini) has a three dimensional picture already in his head that he is trying to recreate within two dimensions. The division between art and reality is wonderfully blurred. His repeated self-reference to inherent dishonesty renders him truthful!
Stefanie C
Super Reviewer
Fellini: I'm a Born Liar Quotes
There are no approved quotes yet for this movie.