Ferdinand
(2017)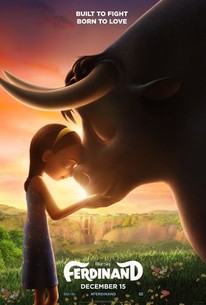 TOMATOMETER
AUDIENCE SCORE
Critic Consensus: Ferdinand's colorful update on a classic tale doesn't go anywhere unexpected, but its timeless themes -- and John Cena's engaging voice work in the title role -- make for family-friendly fun.
Movie Info
FERDINAND tells the story of a giant bull with a big heart. After being mistaken for a dangerous beast, he is captured and torn from his home. Determined to return to his family, he rallies a misfit team on the ultimate adventure. Set in Spain, Ferdinand proves you can't judge a bull by its cover. From Blue Sky Studios and Carlos Saldanha, the director of "Rio" and inspired by the beloved book "The Story of Ferdinand" by Munro Leaf and Robert Lawson, "Ferdinand" is a heartwarming animated comedy adventure with an all-star cast that includes John Cena, Kate McKinnon, Gina Rodriguez, Anthony Anderson and many more.
Critic Reviews for Ferdinand
Audience Reviews for Ferdinand
Another formulaic animation by Carlos Saldanha, who tries too hard to make something fun for the whole family but doesn't seem to realize how forgettable this is, with silly German horses, endless chases and pedestrian jokes that rely mostly on Ferdinand being big and clumsy.
Carlos Magalhães
Super Reviewer
½
It can't go to toe-to-toe with Coco for the animation Oscar, but Ferdinand represents a step forward in quality for Blue Sky Studios. They've managed to infuse their usual brand of frenetic storytelling and frantic humor with a nice adherence to the source material. It a shiny piece of animation for modern day families but telling a timely and poignant story that culminates in a touching match in the arena. This is predictable fluff, but actually hilarious, the German stallions had me guffawing, and John Cena and Kate McKinnon do great vocal work. What I think would improve Blue Sky's efforts on a more technical level, would be the fleshing out of the backgrounds and a more unique visual style. The animation is nice but very basic and not filled in as much as one would expect from Pixar. Still, Ferdinand is often too frantic, but its message is strong and its a pleasant way to spend an afternoon at the movies. In a year with few good animation offerings, this one at least ended the year stronger. Rating: 72
½
There are plenty of animated films that follow the same sort of formula, make the kids laugh with silly humor but keep the adults entertained by throwing in a heartfelt message that resonates well with people of all ages. Ferdinand certainly tries to do just that with the story of an outsider just wanting to break the mold of being a tough fighter bull, but it also falls victim to the same sort of problems that most non-Disney/Pixar films do. It's always so easy to tell the difference between an animated film that is for all ages and one that is merely made for kids dragging their parents to the theater, and it has nothing to do with the animation style difference between studios. The real difference is in the humor and direction. Ferdinand is full of great voice talent from the improving John Cen, to Kate McKinnon, Daveed Diggs, or Gina Rodriguez. Heck it's even impressive in the look of Blue Sky's animation. However, I had a real issue with the use of that particular voice talent and animation that made the experience far from a worthy outing at the movies. When 98% of the humor is physical-slapstick cheap humor that has no substance or bearing on the actual story, then I constantly get the feeling there wasn't as much time or care put forth in the making of the film than there should be. Which in turn, can eliminate any emotion you did have attached with those particular characters in the first place if the film puts humor before heart. With that said, of course there are things to like about Ferdinand. There will always be place in Hollywood for stories about characters breaking the mold and doing something different, whether that be a human, animal, or even toy. Underneath all of the ridiculous humor, there is a nice arc for the character of Ferdinand and his various animal friends. To me though, the misplaced childish humor every few minutes interrupts any momentum for the real story to kick in. 5.7/10
Thomas Drufke
Super Reviewer
Ferdinand Quotes
There are no approved quotes yet for this movie.