Festival in Cannes
(2002)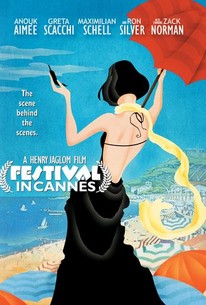 Festival in Cannes Photos
Movie Info
A behind-the-scenes-look at the flamboyant madness surrounding the Cannes Film Festival, the world's premiere film event. The luxurious gathering serves as a backdrop to the desperate, needy, funny, alternately glamorous and duplicitous world of the international movie business.
Critic Reviews for Festival in Cannes
Audience Reviews for Festival in Cannes
A behind-the-scenes look at the madness that is Cannes, the film follows several people who are in town to make the deal that will keep their careers afloat. There is an actress, turned script writer (Gretchen Scachi) trying to sell her script. There is the aging actress (Anouk Aimee) who hasn't had a leading role in some time. There is her ex-husband (Maximilian Schell), a director who hasn't helmed a film in almost as long, in town with his Italian starlet girlfriend. And a big-budget Hollywood producer (Ron Silver) who has been tasked with signing the aging actress to a bit part in order to land the big names that will carry the film. In the process, old lovers reunite, players get played, and new lovers find one another. Given the insincerity of everyone's shtick, one has to wonder which of these pairings are destined to survive the week. The film is awash with familiar faces, and some not so familiar. It appears to have been shot during an actual week of the famous Cannes Film Festival, and derives a certain authenticity from that. A very well-done, entertaining piece that may not bring world peace, but it does manage to keep one chuckling for a little over an hour and a half.
Mark Abell
Super Reviewer
Festival in Cannes Quotes
There are no approved quotes yet for this movie.