Fiddler on the Roof
(1971)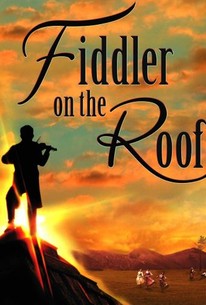 TOMATOMETER
AUDIENCE SCORE
Critic Consensus: A bird may love a fish -- and musical fans will love this adaptation of Fiddler on the Roof, even if it isn't quite as transcendent as the long-running stage version.
Fiddler on the Roof Photos
Movie Info
Norman Jewison's adaptation of the long-running Broadway musical is set in the Ukranian ghetto village of Anatevka (the film was actually lensed in Yugoslavia). Israeli actor Topol repeats his London stage role as Tevye the milkman, whose equilibrium is constantly being challenged by his poverty, the prejudicial attitudes of non-Jews, and the romantic entanglements of his five daughters. Whenever the weight of the world becomes too much for him, Tevye carries on lengthy conversations with God, who does not answer but is at least more willing to listen than the milkman's remonstrative wife Golde. After arranging a marriage between his oldest daughter Tzeitel and wealthy butcher Lazar Wolf, Tevye is forced to do some quick rearranging when the girl falls in love with poor tailor Motel Kamzoil. Fancying himself more broad-minded than his gentile oppressors, Tevye cannot accept the notion that his other daughter Chava would want to marry Fyedka, a non-Jew. And after shouting the praises of "tradition," Tevye must change his tune-and his entire life-when he and his neighbors are forced out of Anatevka by the Czar's minions. Topol's co-stars include Norma Crane as Golde, Yiddish theater legend Molly Picon as Yente the matchmaker, and Leonard Frey as Motel.
Critic Reviews for Fiddler on the Roof
Audience Reviews for Fiddler on the Roof
½
Based on the Broad way musical of the same name, this is the epic story of finding the balance between tradition and progress. It's set in the Orthodox Jewish section of the tiny Russian ghetto town called Anatevka in the early 1900s. This film is a bit overlong, and a little boring here and there, but aside from that, it is wonderful. It works better as a stage production, but it's still fine as a film. For the longest time, everything I knew about Jewish culture came from this film. It's portrayal of the Jewish people and culture (specifically Russian Jews) is quite accurate by many accounts, but a little laughable and stereotypical if taken out of context. I really like this movie, and it is one of my favorite musicals, but this isn't something I can bring myself to watch very often. It's a good story, but man, it's so depressing. I guess in the long run the story has a happier ending, but if you discount that, it's got a very bittersweet conclusion that seems to further reinforce the idea that Jews have such a miserable and downbeat history. The acting is mostly pretty great. Some are better than others, though. It was controversial to cast him, but Topol makes for a great Tevye. It would have been awesome had they gotten Zero Mostel to reprise the role though. The music is basically the star of the show, and it's essentially flawless..unless you don't like musicals. If that's the case though, then you have no business watching this. I also really love the sets, costumes, and the camera work. The attention to detail is fantastic, and things just look gorgeous. I'll conclude this review with an interesting story: my dad, good Roman Catholic man that he is, enjoys this story so much that he tried to persuade my mom to name me Lazar Wolf instead of the name I ended up with. That's awesome.
Chris Weber
Super Reviewer
½
TRADITION!!!! TRADITION!!! And it doesn't get any better this this Oscar winning musical based on the Broadway show of the same name. Just to watch the great Topol in action is worth seeing. A Marvelous classic!!! One of the great movie musicals to ever grace the 1970's
Mister Caple
Super Reviewer
I can't believe that it took me so long to see this deservedly acclaimed work by Norman Jewison about how life, as John Lennon said, is what happens while we were making other plans. Rousing and heartwarming with songs that do not offend but rather enhance the affair, as well as a look at life in a small Jewish village in Poland in the days before the revolution.
Kevin M. Williams
Super Reviewer
Fiddler on the Roof Quotes
| | |
| --- | --- |
| Perchik: | Money is the world's curse. |
| Tevye: | May the Lord smite me with it. And may I never recover. |
| | |
| --- | --- |
| Tevye: | As the good book says, when a poor man eats a chicken, one of them is sick. |
| Mendel: | Where does the book say that? |
| Tevye: | Well, it doesn't say that exactly, but somewhere there is something about a chicken. Good sabbath. |