Field of Dreams
(1989)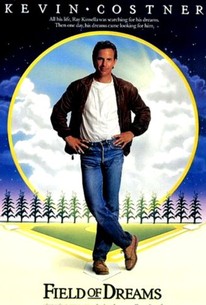 Movie Info
"If you build it, he will come." That's the ethereal message that inspires Iowa farmer Ray Kinsella (Kevin Costner) to construct a baseball diamond in the middle of his cornfield. At first, "he" seems to be the ghost of disgraced ballplayer Shoeless Joe Jackson (Ray Liotta), who materializes on the ballfield and plays a few games with the awestruck Ray. But as the weeks go by, Ray receives several other messages from a disembodied voice, one of which is "Ease his pain." He realizes that his ballfield has been divinely ordained to give a second chance to people who have sacrificed certain valuable aspects of their lives. One of these folks is Salingeresque writer Terence Mann (James Earl Jones), whom Ray kidnaps and takes to a ball game and then to his farm. Another is Doc Graham (Burt Lancaster), a beloved general practitioner who gave up a burgeoning baseball career in favor of medicine. The final "second-chancer" turns out to be much closer to Ray. That "magical" field in Dyersville, Iowa still draws thousands of baseball-happy tourists each year. ~Rovi
Critic Reviews for Field of Dreams
Audience Reviews for Field of Dreams
½
The truest definition of a magical film, with great performances, one of the most beautiful scores I can remember and a touching narrative that is not about baseball as it is about going the distance and making amends with the past - and the ending is simply wonderful.
Carlos Magalhães
Super Reviewer
Is the film 100% perfect? No, but it's damn close. Kevin Costner leads with a powerhouse performance, being told by "the voice of god" to build something in order to have someone come. Once he realizes it is a field he must build, in order to have his most beloved player on the field, he gives himself a mission, which has him travelling across the globe, trying his best to accomplish the tasks at hand. As this is happening, the bank is about to foreclose on his home. This film really tells the incredible story of how life itself is more important than any tangible thing. The direction is brilliant, the script is wonderful, and the performances are true. I loved "Field of Dreams" from start to finish. One of my all-time favourite films revolving around sports/family!
½
It's delightful for what it is...but what it is is a movie about ghost baseball players that I wouldn't watch over and over again, unlike Die Hard. Once is enough :~P The beginning has a nice thrillery feel, and I enjoy how Ray's wife is happily supportive, but when it becomes a buddy road trip movie, the flimsy connections between Terence Mann and Doc Graham just don't cut the cheap ballpark mustard.
Alice Shen
Super Reviewer
Field of Dreams Quotes
| | |
| --- | --- |
| "Shoeless" Joe Jackson: | Is this Heaven?. |
| "Shoeless" Joe Jackson: | Is this Heaven? |
| Ray Kinsella: | No.....It's Iowa |
| Ray Kinsella: | No.....It's Iowa. |
| | |
| --- | --- |
| "Shoeless" Joe Jackson: | If you build it, he will come. |
| | |
| --- | --- |
| Annie Kinsella: | If you were married to me you would kill me in my sleep. |
| | |
| --- | --- |
| Shoeless Joe Jackson: | If you build it, he will come. |