The Fifth Element
(1997)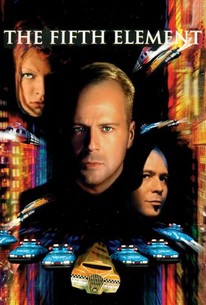 TOMATOMETER
AUDIENCE SCORE
Critic Consensus: Visually inventive and gleefully over the top, Luc Besson's The Fifth Element is a fantastic piece of pop sci-fi that never takes itself too seriously.
Movie Info
Good and evil battle for the future of 23rd century Earth in this visually striking big-budget science fiction epic. In the movie's prologue, which is set in 1914, scientists gather in Egypt at the site of an event that transpired centuries earlier. Aliens, it seemed, arrived to collect four stones representing the four basic elements (earth, air, fire and water) - warning their human contacts that the objects were no longer safe on Earth. A few hundred years later (in the 23rd century), a huge ball of molten lava and flame is hurtling toward Earth, and scientist-holy man Victor Cornelius (Ian Holm) declares that in order to prevent it from destroying the planet, the same four elemental stones must be combined with the fifth element, as embodied by a visitor from another world named Leeloo (Milla Jovovich). However, if the force of evil presents itself to the stones instead, the Earth will be destroyed, and an evil being named Zorg (Gary Oldman) will trigger the disaster. Despite her remarkable powers, Leeloo needs help with her mission, and she chooses her accomplice, military leader-turned-cab driver Korben Dallas (Bruce Willis), when she literally falls through the roof of his taxi. Writer and director Luc Besson began writing the script for The Fifth Element when he was only 16 years old, though he was 38 before he was able to bring it to the screen. ~ Mark Deming, Rovi
Critic Reviews for The Fifth Element
Audience Reviews for The Fifth Element
Luc Besson's mesmerizing sci-fi original is visually innovative and an assortment of humor, action and exuberance. The unorthodox soundtrack and advanced vibe caps off a film that's just pure fun and amusement. 4/5
Eugene Bernabe
Super Reviewer
½
There is something amusing about the way it embraces camp but Besson crosses the line into goofy, ridiculous flamboyance with an insufferable Chris Tucker, an over-the-top Gary Oldman overacting insanely and a really preposterous plot that makes impossible any suspension of disbelief.
Carlos Magalhães
Super Reviewer
½
It's the weirdest, coolest futuristic movie I've ever seen. The story is pretty cool and Gary Oldman is especially cool as the arch-villain. It's rare to find a sci-fi movie like this anymore. Bruce Willis is of course the go-to action king of films.
The Fifth Element Quotes
| | |
| --- | --- |
| Korben Dallas: | You wanna play it soft. We'll play it soft. You wanna play it hard. Let's play it hard. |
| | |
| --- | --- |
| Korben Dallas: | Finger's gunna kill me. |
| | |
| --- | --- |
| Jean-Baptiste-Emmanuel Zorg: | I don't like warriors. Too narrow-minded, no subtlety. And worse, they fight for hopeless causes. Honor? Huh! Honor's killed millions of people, it hasn't saved a single one. |
| | |
| --- | --- |
| Ruby Rhod: | What's wrong with you? What you screamin' for? Every 5 minutes there's somethin', a bomb or somethin'. I'm leavin'. bzzzz. |