Fifty Shades Freed
(2018)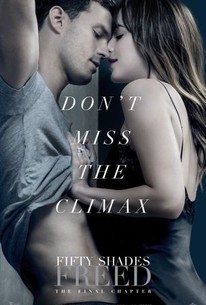 TOMATOMETER
AUDIENCE SCORE
Critic Consensus: Fifty Shades Freed brings its titillating trilogy to a clumsy conclusion, making for a film franchise that adds up to a distinctly dissatisfying ménage à trois.
Fifty Shades Freed Videos
Fifty Shades Freed Photos
Movie Info
Believing they have left behind shadowy figures from their past, newlyweds Christian and Ana fully embrace an inextricable connection and shared life of luxury. But just as she steps into her role as Mrs. Grey and he relaxes into an unfamiliar stability, new threats could jeopardize their happy ending before it even begins.
Critic Reviews for Fifty Shades Freed
Audience Reviews for Fifty Shades Freed
Another piss-poor piece of filmmaking, Fifty Shades Freed is a meandering and insipid romantic(?) drama. Somewhere in here there's a story, but it's really hard to find; something about Anna's former boss trying to get revenge of some kind. And the Christian/Anna relationship still feels abusive, with Christian controlling what Anna does and who she sees (relenting only occasionally). The actors don't have any chemistry (even after three films), giving lackluster performances. And other than one car chase, none of the action scenes are very exciting or intense. Fifty Shades Freed plays more like an epilogue to the last film and fails to deliver a compelling story.
Dann Michalski
Super Reviewer
For the sake of our benefit, can we already not get another nomination for worst picture of the year this early again? Fifty Shades Freed is the conclusion to this painful trilogy, yet even still, I can't even go this far onto this forsaken franchise and I wish I could regret watching every installment in this blender of a franchise.
EpicLadySponge the Adventurer
Super Reviewer
½
I think Fifty Shades Freed as a title works well not just for the audience but also the actors, as everyone is celebrating putting one of Hollywood's least engaging film franchises well behind them. E. L. James' best-selling erotic novels have made for pretty lifeless big screen entries. Director James Foley (Glengarry Glen Ross) is free from having to bring this silly thing to straight-laced life. The actors are free at last from the mechanical sex scenes that populate these films, free at last from their terrible chemistry with which they cannot conceal, free at last from having to say stilted dialogue for stilted characters, and free at last from the six hours of boredom and overstated kink. This is a franchise that wants to go out in a toe-curling climax but goes out with a whimper. If you're like me you'll scratch your head and wonder, "Was that it?" Anastasia Steele (Dakota Johnson) and Christian Grey (Jamie Dornan) are now Mr. and Mrs. Grey. While honeymooning in France, Christian still can't help his domineering ways and instructs Ana not to sunbathe topless. She finds ways to assert her independence and defiance. Meanwhile, the happy couple is challenged by two foes: a vengeful Jack Hyde (Eric Johnson) and the prospect of children. It's hard to say which in this trilogy is the worst film but I still venture that the second, Fifty Shades Darker, is the winner in that regard. It's hilariously bad and incompetent, whereas Fifty Shades Freed is slightly better simply because there's less of everything, which also includes less of a reason to exist. If you thought the previous film was struggling to stretch enough story to fill a feature-length runtime, then just wait until you watch the new movie where we have such scintillating plotlines like whether Christian's brother might be cheating on his girlfriend or Christian being mad because Ana hasn't changed her work email to her new married name. That last item also serves as another blaring waning sign about the scary control freak that is this franchise's supposed brooding, Byronic hero, but we'll get more into that later. The characters introduced in the last film don't really matter. There just isn't a credible story here, which may be why this is the first Fifty Shades to clock in short of two hours (and it has a montage that cycles through highlights of the trilogy). The problem is that the last film mostly completed the journey of Christian Grey from bad boyfriend material to slightly less bad marriage material, as he got down on one knee and proposed to Ana. He learned to settle down, open up about his past behavior, and start the process of compromise. With Fifty Shades Freed, we start off with them getting married and their frolicking honeymoon, and the movie seems to exist in that post-"happily ever after" phase of romances that we rarely see because nobody wants to know what happens after the couple gets their Big Closing Kiss. Does anybody want to check in with Cinderella and Prince Charming arguing over who has to do the dishes (trick question: it's the servants)? Conflicts are once again introduced and hastily taken care of, much like the laugh-out-loud helicopter crash from that last film that was resolved in the very next scene. They've carried over a lackluster villain from the second film, Ana's unfortunately named old boss Jack Hyde who tried to sexually assault her. This man worked as a fiction editor in the world of publishing and now suddenly he's an expert on kidnapping, breaking and entering, and stalking. It's a ridiculous threat meant to provide some level of dread and danger, except he's easily dispatched by the end of Act One. There's a hilarious courtroom scene where his lawyer is trying to argue that Jack was simply trying to work things out after exhausting all his communication resources. Ignore the fact he held a knife to Ana's throat. He goes away for the second act only to, surprise, come back in another stupidly preposterous way to re-establish his menacing threat... only to once again be easily dispatched in an anticlimactic manner. This guy sucks. The screenplay tries to hastily add some duality to Jack, saying he despises Christian Grey for denying him the life he deserved. Apparently (spoiler alert but do you actually care anymore?) Jack and Christian were in the same Detroit foster care system together and I guess Jack assumes without Christian he would have been adopted by wealthy elites instead? Jack seemed to make a name for himself even without that cushy starting point. Mostly this is another Fifty Shades movie that feels like it has time to fill and time to kill. That's where you'd expect the steamy sex scenes to provide a jolt. Isn't the whole purpose of this franchise watching pretty people get naked and do sexy things? For all its whips and chains and BDSM banter, the Fifty Shades sex has been tepidly tame. As I wrote previously of this franchise: "I cannot overstate just how dull and lazily staged the sex scenes are in the film, extinguishing any kind of titillation and strangely demurring once things get passionate. The nubile bodies are on display, Johnson's in semi-permanent arched back, though Dornan is often coquettishly obscured (sorry ladies). The word that seems most appropriate for the sex scenes is 'anticlimactic.' Ana jokes that she's a vanilla girl and trapping Christian into a plain relationship, and their big screen sex life typifies this (anyone remember Ana's question about what a butt plug was?). It's a world of kink where nipple clamps are giggle-worthy accessories to the participants and the go-to sexual position is missionary. This movie is not the daring dip into untapped sensuality it's been made out to be. It's much more conservative at heart." The lusty thrills are of the soft-core porn variety with close-ups of erect nipples and heavy breathing. The sex scenes in the second film were most strange because they all followed a routine that was cut short once actually sex began, cruelly teasing the target audience. By my count, there are three actual sex scenes in Fifty Shades Freed and two or so aborted efforts. The strongest sex scene is the one that feels inspired from 9 1/2 Weeks, where Ana takes control and dabbles melted dollops of ice cream over Christian's shirtless torso only to lovingly lap up every morsel. It's the only scene that feels like it has some spontaneity and sexiness. Maybe it's because it breaks free from their Red Room routines or maybe it's because it has Ana in charge, or maybe it's just residual good will from memories of 9 1/2 Weeks (side note: I re-watched it a year ago as "research" for a short script, and it is not as sexy as you've been told. There's an extended sex scene on the scuzziest and grimiest fire escape stairs in the rain). Another disappointment for its intended audience must be the lack of full-frontal male nudity, something each film has curiously shied away from. There is plenty of Jamie Dornan's pubic hair, which I guess was dangled as a concession to the fans. If you came to watch erotic sex scenes you'd be better off getting off from late night cable. With bad sex, bad storytelling, and bad pacing, what we're left with is the closing realization that these two people really shouldn't be together. Much of the second half of this movie revolves around a core difference over their views on children: Ana wants them and Christian is less than enthusiastic. This is a conversation that should have taken place before they got hitched. It's another example of Christian not wanting to share Ana with anyone (he literally says this in response to being a potential father). You can bring the man to sing a dopey love song on the piano but you still can't remove all the scary, controlling elements of his character. I think ultimately Christian's love of bondage is because he is portrayed as being damaged, abused, and this informs his sexuality. While that may be the case for various people, transforming moments of trauma into uncontrollable and subconscious desires or titillation, it presents a pretty distorted picture of the consenting adults who frequently enjoy participating in BDSM. These people are simply not that interesting. Anastasia Steele (and it pains me every time to type that out) is a mousy audience surrogate meant to be whisked away into a hidden world of luxury, where the hunky man is obsessed with having her, and only the power of her love can make him whole again. That doesn't exactly sound like the makings of a healthy relationship, and the fact that it's spun into being a smutty fairy tale is even more disconcerting. The Twilight fan fiction origins become clearer with every film. Struggling to justify its whole existence for 105 lugubrious minutes, Fifty Shades Freed is the flaccid finale to a boring and underwhelming trilogy. I have no problems with movies whose sole purpose is to turn on their audience. Erotic movies certainly have their place in the landscape. They can even be specifically designed for very specific audiences that do not include me, and the Fifty Shades series is definitely not my kind of smut. I'm not the target audience but I'm open to interesting stories and visceral sexuality. With how redundant and tedious the film franchise is, I think I'll recycle yet again an observation I wrote of the original film: "Surprisingly boring and rather tepid, Fifty Shades of Grey feels too callow to be the provocative film experience it wants to be. It needs more of just about everything; more characterization, more organic coupling, more story, more romance, more kink. It is lacking in too many areas, though the production values are sleek, like it's the most technically accomplished episode of Red Shoe Diaries." Skip the Red Room, these insipid characters, and the high-camp tawdry attempts at sensuality. The final Fifty Shades is a fitting end for a franchise that could never get its mojo going. Nate's Grade: C-
Nate Zoebl
Super Reviewer
Fifty Shades Freed Quotes
There are no approved quotes yet for this movie.