Fifty Shades of Grey
(2015)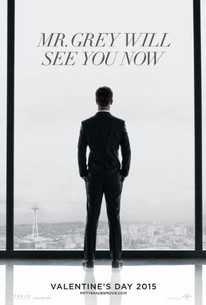 TOMATOMETER
AUDIENCE SCORE
Critic Consensus: While creatively better endowed than its print counterpart, Fifty Shades of Grey is a less than satisfying experience on the screen.
Fifty Shades of Grey Videos
Fifty Shades of Grey Photos
Movie Info
E.L. James' kinky best-seller gets the big screen treatment with this Universal Pictures/Focus Features co-production. The steamy tale details a masochistic relationship between a college student and a businessman, whose desires for extreme intimacy pen from secrets in his past. ~ Jeremy Wheeler, Rovi
News & Interviews for Fifty Shades of Grey
Critic Reviews for Fifty Shades of Grey
Audience Reviews for Fifty Shades of Grey
Look, this isn't going to be a review that raves about how good this film is, because it truly is trash. I feel as though this film is a genius picture on many levels, due to its manipulative styles and ways of getting people into the theatre. Looking back on Fifty Shades of Grey, it really was just a marketing tactic for a certain demographic. Sure, fans of the book watched it and may have got some enjoyment out of it, but the story, accompanied by the god-awful dialogue, really does make this film a treat to watch, even if you can admit how bad it is. I have no idea how seriously the books are to be taken, nor do I ever intend on finding that out, but this film is an absolute blast to watch, because the dialogue is completely ridiculous. Here is why you should check out Fifty Shades of Grey, even though it's terrible. Following Anastasia Steele and Christian Grey as they meet through a business meeting, she quickly becomes infatuated with him, only to realize that there is a lot more to him behind the scenes. Tormented by the fact that he likes to inflict pain onto women who enjoy it, he is very heavy into BDSM. Accepting her as his girlfriend and trying to get her to sign a non-disclosure agreement to participate in these events that would pleasure him, their relationship grows in very strange ways. Filled with horribly written dialogue and a plot that really doesn't go anywhere, this first instalment doesn't do to get fans to return, although I'm sure the readers will be there on day one of all three films. While the story of this film is obviously not to be taken too seriously, the performances in both Dakota Johnson and Jamie Dornan definitely lifts the film from the ashes in my opinion. There chemistry may not be perfect, but they do give these roles their all, especially Johnson. These are some of the most irrelevant and dumb characters I have seen on-screen in quite some time, but their performances are what make them bearable. There are times when the dialogue coming out of their mouths is so terrible that I can do nothing but chuckle, but Anastasia could be completely in tears. There was clear effort in making this film better than it The main reason people flocked out to see this film, was clearly due to the shock value. People who hadn't read the books were curious, people who knew it was going to be a poor film wanted a good laugh, and fans of the book were hoping to be satisfied. But were the scenes memorable in any way? Memorable in the sense that they are solely done for shock value, yes, but they really aren't that shocking, especially when they are limited even with an R rating. I did not go into this film hoping these scenes would be great though. I was hoping for great chemistry and compelling characters, which was a mistake from the very beginning. Having said all of this, these sequences should please fans of the book. In that way, I guess the film does its job. In the end, Fifty Shades of Grey sets out to please the fans and draw in interested people. That is exactly what it accomplished and absolutely nothing more. With wooden characters and a plot that centres solely around the fact that a woman is unsure if she should be trusting this man, there really isn't much substance to be had. Overall, as I said, it does its core job for fans, but newcomers will either roll their eyes, find it funny, or walk out. Released on Valentine's Day, as are the sequels, it's the perfect spot for a film like this, especially if they are in the mood for some cash returns. Fifty Shades of Grey is a very, very bad film, but undeniably accomplished its goal. For that, I give it a few props.
½
I won't even get into why the novel sounds like utterly asinine stuff and concentrate why the movie is probably a lot more tame and also nothing to get excited about. Sure, there are some entertaining and amusing parts and, of course, a few sex scenes that show a lot of Johnson, but once the whips are whipped out things get really repetitive until there suddenly isn't much of an ending and the film just stops. Especially the last 15 minutes with all the crying are really boring and annoying. Avoid and watch porn instead.
2 stars. Wow. 2 stars more than I thought I'd be rating this. The 2 stars are for Dakota. She makes this watchable and manages to give Ana a bit more character and pluck than she had in the book. Also, the movie is filmed nicely and well paced. However, the saying goes, you can't polish a turd, and the source material is one big steaming one. It is beyond disturbing to me that this is considered erotic by do many women. It's not. It's f'ed. Said it before, I'll say it again, this is domestic violence. You can't change a guy like this. It's not hot. He's not a challenge. It bothers me that this is out there in a way. I will probably not watch part two, for the same reason I didn't read part two. I don't want to see her go back to him. Her leaving his twisted ass works for me.
Nicki Marie
Super Reviewer
Fifty Shades of Grey Quotes
| | |
| --- | --- |
| Christian Grey: | Oh, fuck the paperwork. |
| | |
| --- | --- |
| Christian Grey: | My balls sure could have the sherbet licked clean off. |
| | |
| --- | --- |
| Anastasia Steele: | Enlighten me then. |