Fighter
(2007)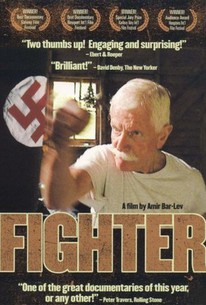 AUDIENCE SCORE
Critic Consensus: No consensus yet.
Movie Info
Two survivors of WWII atrocities meet in Fighter, an emotional road-trip documentary from director Amir Bar-Lev. The film follows friends Jan Wiener and Arnost Lustig as they journey from Prague to Italy -- the exact path that Wiener used to escape from a Nazi labor camp. Lustig is an author who seeks to write about his friend Wiener's experiences, but over the course of the film, each man shares his tale of oppression, escape, and emotional recovery. Both men recount tales of watching their parents die in ghettos, and being told that they wouldn't live to see adulthood. Far from being agreeable old chums, however, the two men philosophically bicker; after one such argument, they vowed that they would never speak to each other again, and filming halted until the two reconciled.
Critic Reviews for Fighter
There are no critic reviews yet for Fighter. Keep checking Rotten Tomatoes for updates!
Audience Reviews for Fighter
½
This movie really surprised me. It started out looking like a 70's style B movie, but then turned into something much more. I ended up really enjoying it. The girl in this movie did a wonderful job, and the style of the film was really quite good. Not your typical action style film. This was so much more interesting, heartfelt, and exciting to watch.
Cynthia S.
Super Reviewer
½
Amazing unique genre piece in the vein of less The Karate Kid and more Bend It Like Beckham, this Danish film is really about the cultural conflict the children of immigrants often deal with a Western society (in this case Denmark) when they go against the traditional values of their parents. Watch out for a superb training sequence with Aicha and Emil as they race across the rooftops of Copenhagen, demonstrative of the excellent stunt work in the film and the great chemistry between them. Fighter is an excellent, sensitive and nuanced depiction of the internal discord between choosing your own passions and loyalty to your family and heritage.
Dean McKenna
Super Reviewer
½
A Danish film about a muslim girl and a christian guy studying kung-fu with a little bit of a generation conflict thrown in. What could've been a unique approach to the "world against her" story actually leaves no cliche unturned in this martial arts version of Bend It Like Beckham. Melodramatic and contrived, it's a bit difficult to really feel anything for the characters since this story has been told a countless number of times. However, there's a really decent performance from lead actress Semra Turan and I look forward to seeing her in future films. Some of the fight scenes are done rather well, while other fights seem to be concerned with complimenting a flashy soundtrack (and a bad one at that) and come off as silly. Although Turan makes fights scenes that much more engaging, the story could've benefited by being darker, moodier, and less extravagant given its' subject matter.
El Hombre Invisible
Super Reviewer
Fighter Quotes
There are no approved quotes yet for this movie.