Film Geek
(2005)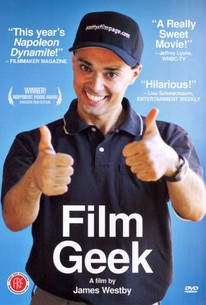 TOMATOMETER
AUDIENCE SCORE
Critic Consensus: Charming despite its central character's unfortunate personality traits, Film Geek serves as a slight yet amusing calling card for writer-director James Westby.
Movie Info
A socially inept video store clerk forges a tenuous friendship with a pretty downtown hipster after being fired from his job in Oregon-based director James Westby's quirky tale of geek love among the twenty-something set. Scotty Pelk (Melik Malkasian) may not be able to relate to his peers at the video store so well, but his knowledge of film is encyclopedic. A nuisance to the customers and an endless source of annoyance to his coworkers, Scotty takes solace in a friendly hipster named Niko (Tyler Gannon) after being unceremoniously fired the job that he loves. With his film website failing and no one but Niko to turn to, Scotty's feeling for Niko begin to move beyond the realm of friendship and into the romantic despite the constant interference of Niko's obsessive ex-boyfriend Brandon - who isn't about to let the girl he loves end up with a video store reject who can't even find friends on the internet. But thanks to Niko, Scotty's life is taking a turn for the better, and after experience what a small dose of confidence can do for a man's sense of self-worth Scotty is finally prepared to show just how far a deep love of film and a keen eye for criticism can actually get one in life.
Critic Reviews for Film Geek
Audience Reviews for Film Geek
½
One of the more creative films to scope the world of film geeks, nerds, connoisseurs, and experts, most of the online film community can relate to the story of Scotty Pelk: Completely obsessed with film, Scotty can only communicate with people through the art form, and though his expertise is of the highest level, he is ridiculed throughout the film for his pestering and endless awkwardness with other people. In his spare time, it's all about film. Even when it's his day off he goes back to the video store; suggestions for a date invariably come back to film; all forms of conversation, you guessed it, are film related. Watching his exploits becomes painful as he is fired, mistreated, and blocked out of every societal standard possible. Though there is a spot of romance, the girl he goes after is visibly reluctant, which we're not sure the effervescent Scotty is even aware of, or if he chooses to live in his fantasy world, constructed of video tapes lying around his tiny apartment. The ending is by far the best part, a fantasy all film buffs and geeks have, and yet there's a Shyamalian twist that is both comical and sadly dark. I hope this is not what normal people compare us to, but it is fun to watch, geeking out at the multiple film references and scenes of desperation.
Spencer S.
Super Reviewer
Film Geek is too depressing to be enjoyed. It was ok for awhile, but then it seemed like they were just trying to fit as many references to movies, directors, and actors as they could in an hour and fill the rest of the movie with the lead jacking off. There's really no need for it and absolutely no point to it. The ending is absolutely disastrous and brought my rating down another half star. There are a few good things about it though. It is at times funny, but it's jokes do become tiresome after about half an hour. Melik Malkasian is pretty good at playing the annoying film geek. I just didn't enjoy the character enough for his performance to have that big of an influence on me. The third thing that is good about it is that it's short. If it was any longer, it would be impossible to get through.
Melvin White
Super Reviewer
½
I like this indie comedy, as I actually laughed at it. The lead actor is fantastic at playing a socially clueless film savant. This guy epitomizes geek, moreso than he resembles any cinephiles I know. I wish this guy were real, as he can do "six degrees of kevin bacon" in any number of degrees and with virtually anyone you can think of. He also has an exact memory of scenes, so he'd be really good to say to: "Have you seen this type of scenario before?" and then he would state in chronological order any movies containing such a scene, and probably even the minute/second mark where the scene begins and ends. Basically, Scotty epitomizes what all of us here are doing: saying "this movie is awesome because..." and posting it to the internet in hopes someone will find it worthwhile. The primary difference, however, is that you probably don't know a fraction of what he does about movies, but you do know about some things that are not film-related. Like Scotty, you probably do subsist off of cereal, have lists for all your fav directors, and you know that a widescreen aspect ratio is superior to a 4:3 AR as the latter "compromises the director's vision". You've also probably been to a party, had a beer, smoked a splif, or talked to an attractive sexual partner, but Scotty hasn't, so he is accidentally forced into a world where he does experience these things after he loses his video store job. This is a specific (and subjective) positive: throughout the movie, we get to see (from behind) Scotty wanking into his sink several times to indicate plot development, and each time a little more ass and skin gets shown, the actor does have a very doable bum and for the last shot we finally get a better glimpse at convulsing crack. This movie is on netflix autowatch, so if you're in a mood for a (funny) comedy or want to be reminded of some great movies you have yet to watch, check out Film Geek, but beware that the ending is not a typical indie downer.
_kelly .King
Super Reviewer
Film Geek Quotes
There are no approved quotes yet for this movie.