Filth
(2014)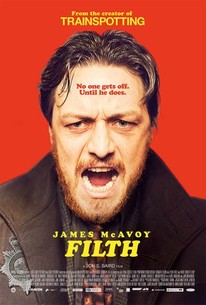 Movie Info
Scheming Bruce Robertson, a bigoted and corrupt policeman, is in line for a promotion and will stop at nothing to get what he wants. Enlisted to solve a brutal murder and threatened by the aspirations of his colleagues, including Ray Lennox, Bruce sets about ensuring their ruin, right under the nose of unwitting Chief Inspector Toal. As he turns his colleagues against one another by stealing their wives and exposing their secrets, Bruce starts to lose himself in a web of deceit that he can no longer control. His past is slowly catching up with him, and a missing wife, a crippling drug habit and suspicious colleagues start to take their toll on his sanity. The question is: can he keep his grip on reality long enough to disentangle himself from the filth?
News & Interviews for Filth
Audience Reviews for Filth
½
James McAvoy's outstanding performance is what lifts this always intriguing dark comedy above its minor flaws - mainly the discrepancy in tone that starts to become more and more evident as the character sinks further into a too serious state of psychosis.
Carlos Magalhães
Super Reviewer
Take a visit to scenic Scotland where a chance at promotion at the local police department leads to one character's descent, leap, into frenzied psychosis as he deliberately sabotages his colleagues. All of the personalities are somehow twisted here but James McAvoy lends his all towards Jim Carrey-like over-the-top twist and thus a performance hard to not watch. Like a visit to a public toilet you will need to struggle to leave without getting much of the aptly named filth on you.
Kevin M. Williams
Super Reviewer
A balls-out, twisted and brilliant piece of madness and energy. A superbly crafted piece of work headlining the best performance of James McAvoy's career. McAvoy's brilliance has no bounds in this film, he is a true movie star that can attack any role he wishes with dedication and strength. A no-holds-barred performance. Filth lives up to its name with vulgarity, sex, violence, lots of drugs and a fantastic soundtrack filled with great songs. It's an acid trip into one man's addictions, and self-destruction. A massively entertaining, grotesque and wickedly hilarious dark comedy. One of the best, grittiest, smartest and darkest comedies to come from Scotland in some time. A tremendously compelling and surreal mind-jogger. It tightens a noose around your heart and mind. Its Trainspotting meets Bad Lieutenant. An insane piece of fun. Director, Jon S. Baird crafts a blisteringly great movie that takes no prisoners. A fiercely funny, sizzling and unforgettable movie. A mind-shattering masterpiece. It's filled with surprises and brutal twist and turns. This movie is profoundly and absurdly glorious.