Final Destination 2
(2003)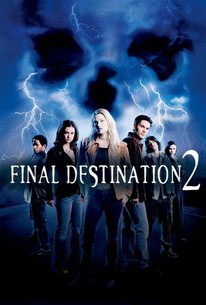 Final Destination 2 Photos
Movie Info
Death lurks, and two teenage girls try to figure out where he's heading, in this sequel to the unexpected teen horror hit Final Destination. As Clear Rivers (Ali Larter), the only surviving passenger of the ill-fated Flight 180, waits in a mental institution, certain Death will claim her, Kim (A.J. Cook), who has begun to display precognitive powers, is driving along the highway when she sees a terrible accident in which several cars crash into a logging truck. Moments later, the horrible vision is gone, but Kim is certain she saw an accident that was supposed to happen but didn't...and now Death will track down the souls he meant to take that day who slipped through his fingers. A police officer, Thomas Burke (Michael Landes), believes there's a germ of truth in Kim's story, and teams her up with Clear in hopes that together they can help prevent Death from snuffing out any more of the people involves in the accident that wasn't. Tony Todd also returns from the first film as Mr. Bludworth.
News & Interviews for Final Destination 2
Critic Reviews for Final Destination 2
Audience Reviews for Final Destination 2
½
This sequel deserves credit for its spectacular first sequence, which is really tense and well made. What follows, though, is more tongue-in-cheek, making fun of Death's ingenious traps and with an intriguing idea about how the plot is influenced by the events of the first film.
Carlos Magalhães
Super Reviewer
4 stars, and that only for the blow-you-outta-yer-seat opening. The rest is the series typical Death as an implacable, invisible prankster force-of-nature ... and I can live with that. Don't get too attached to any characters.
Kevin M. Williams
Super Reviewer
MisterYoda ?
Super Reviewer
Final Destination 2 Quotes
| | |
| --- | --- |
| Thomas Burke: | Trust me. I had a few close calls. |
| Brian Gibbons: | Yeah, me too. Dad, Tell them about that news van thing. |
| Kimberly Corman: | What's that? |
| Mr. Gibbons: | Well, Brian was almost hit by that news van that day in the field & your friend Rory, he pulled him back at the last second. Saved his life. |
| Mrs. Gibbons: | You never told me that, Peter. Boy that was lucky. |
| | |
| --- | --- |
| Mr. Bludworth: | Hello, Clear. I've been expecting you. |
| | |
| --- | --- |
| Kimberly Corman: | There's gonna be a huge accident. Everybody's gonna die! |
| | |
| --- | --- |
| Host: | Tomorrow marks the one-year anniversary since Velez Air Flight 180 exploded and crashed shortly after takeoff from JFK airport. It's a disaster that's affected many. None more so than Mt. Abraham High School, which lost 40 students and 4 faculty members in the crash. But it was the events after the crash that has turned this tragic story into something even stranger. The survivors that managed to get off the plane before it crashed died soon thereafter in a series of mysterious and bizarre accidents. Now to some, these deaths are just tragic coincidences, but to others, they're an indication that there are more sinister events taking place. That's the contention of tonight's guest. Thank you for joining us this evening. |