Find Me Guilty
(2006)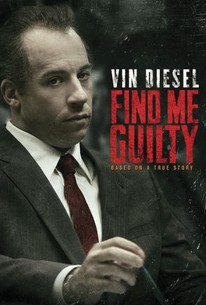 TOMATOMETER
AUDIENCE SCORE
Critic Consensus: Find Me Guilty's excessive length and heavy-handed narrative keep it from reaching its full potential, but Vin Diesel's performance is well worth watching.
Movie Info
A wise guy turns his own trial upside down by serving as his own lawyer in this comedy drama based on a true story. In 1987, an extensive investigation into the activities of the Lucchese crime family led to charges being filed against most of the key members of the gang, leading to the prosecution of 20 different men, each represented by their own council. That is, except for Giacomo DiNorscio, aka Jackie Dee (Vin Diesel), a longtime Lucchese family "mechanic" implicated in everything from kidnapping to drug dealing. While Jackie Dee is obviously a common criminal and guilty of all he's charged with, he also has a fierce sense of loyalty to his colleagues, despite the fact his cousin Tony Companga (Raul Esparza) previously tried to kill him out of fear he might talk. Sean Kierney (Linus Roache), the prosecutor tackling the Lucchese Family case, tries repeatedly to persuade Jackie Dee to testify against his partners in exchange for leniency, but he stubbornly refuses. Tired of the way things are being handled, Jackie Dee informs family attorney Ben Klandis (Peter Dinklage) that he intends to represent himself in court; this seemingly suicidal move turns into an unexpected success as Jackie Dee's sense of humor and streetwise charm has a remarkable impact on the judge and jury. Find Me Guilty also stars Ron Silver, Alex Rocco, and Annabella Sciorra. ~ Mark Deming, Rovi
News & Interviews for Find Me Guilty
Critic Reviews for Find Me Guilty
Audience Reviews for Find Me Guilty
Sidney Lumet returns to the courtroom with this dramedy based on (one of) the longest criminal trials in history ever. It's a fictionalized take, however the film does claim that the bulk of the dialogue comes from actual court testimony, and that's cool, especially if it's actually true and, you know, not a Coenesque joke. While the film is about the major organized crime trial of the 1980s, the focus specifically concerns the events as seen through the perspective of Giacomo "Jackie Dee" DiNorscio, one of the defendants who decided to be his own lawyer...and turn the entire proceeding upside down. Like Dog Day Afternoon, this starts off really funny, but then becomes really serious, although this one didn't come off as bleak and stark with the mood change as that one did. ALso, the film is predominately pro-mafia, which, isn't necessarily a bad thing, but it wouldn't have hurt to have made it a little more even handed, especially when the prosecutor comes off as rather cartoony. Where the film is at its best though, is with the acting. I personally knew that Vin Diesel really could act when given the right material and director (ie Saving Private Ryan), but this is his show all the way through. If all you think he's capable of is Xander Cage or Dominic Toretto, you need to see this. He really can pull off the emotional and dramatic heavy lifting, and the lighter material with the wiseguy hamming it up really sings too. Also, Ron Silver is a joy as Judge Finestein, and Peter Dinklage is great as the defense attorney who tries his best to keep Jackie wrangled. I may be somewhat inflating my grade, but I can't help it. This is really entertaining, and, since I wasn't too famailiar with the actual events (surprisingly) it's quite informative, too. Maybe not the best from Lumet, but definitely worth a solid recommendation.
Chris Weber
Super Reviewer
½
An outragious, compelling, intelligent, powerful and unforgettable movie. Totally gripping, surprisingly moving and relentlessly enjoyable. It's a brilliant, thrilling, riveting and satisfying film. Wickedly funny and magnificent from start to finish. Vin Diesel is sensational, his best performance in year's and possiably of his career. Diesel proves to be more than a race car action hero, this man has talent and I hope he shows more of it in the years to come. Peter Dinklage and Linus Roache give equally impressive and fantastic performances. A teriffic new movie. A court room drama that mixes the gangster genres and wicked humor to create a marvelously entertaining movie and it's all true. The humor works just as great as the drama. It's wonderfully performend and cleverly written from actual courtroom statement. Another masterpiece from veteran film Director, Sidney Lumet. After all these year's he sure does know how to deliver a great film.
An original, watchable movie with shades of "My Cousin Vinny" appearing here and there, making this an entertaining two hours, anchored in large part due to the strong, realistic performance by Vin Diesel. For all of Diesel's critics, watch this movie, this film proves that this guy can act, as well as carry a film. Peter Dinklage is an excellent choice for the role of the lawyer as well, I really think that if he were of normal size, he'd be a very coveted actor. What's cool about this movie is that you don't know how it'll end, it's hard to tell if it's going to go the happy or depressing route.
Dan Schultz
Super Reviewer
Find Me Guilty Quotes
| | |
| --- | --- |
| Ben Klandis: | A laughing jury is not a hanging jury. |
| | |
| --- | --- |
| Giacomo "Jackie Dee" DiNorscio: | This time I take care of me myself. |
| Ben Klandis: | That's the problem. |