Finding Altamira (Altamira)
(2016)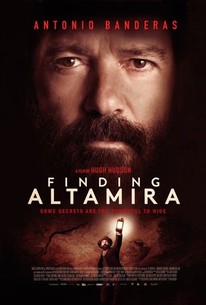 Finding Altamira (Altamira) Photos
Movie Info
In 1879, Spanish archaeologist Marcelino (Antonio Banderas) and his daughter Maria (Allegra Allen) discover seemingly impossible paintings of galloping bison adorning the walls of a hidden cave. The cave of Altamira brings the world together in amazement, drawing people of all types to see the paintings in person. But, Marcelino soon realizes that the art on the walls must be 10,000 years old, earlier than anyone believes possible. The theory threatens to tear Maria and Marcelino's family apart while the outside world's astonishment soon turns to fury and fear. The Catholic Church sees his claims as an attack on biblical truth while scientists prove just as dogmatic and reactionary. Maria's fairytale world grows darker as her family faces disaster and Marcelino's discovery is repressed. Only their love for each other can guide them toward redemption as Marcelino fights to spread the truth.
Critic Reviews for Finding Altamira (Altamira)
Audience Reviews for Finding Altamira (Altamira)
½
I discovered this film by mere coincidence, never even knowing of its existence. And I truly loved it: the story, Banderas' performance, the characters, everything!
Serge Elia
Super Reviewer
Finding Altamira (Altamira) Quotes
There are no approved quotes yet for this movie.