Finding Amanda
(2008)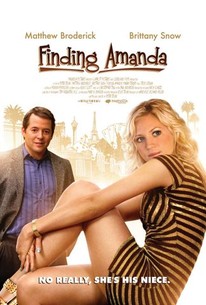 Movie Info
Rescue Me co-creator Peter Tolan makes his feature directorial debut with this comedy starring Matthew Broderick as a moderately successful television writer whose addiction to alcohol, gambling, and drugs make dealing with the latest family crisis especially difficult. Taylor Peters (Broderick) is the writer and producer of a low-rated television sitcom that gets repeatedly bashed by critics and fares only slightly better with the viewing public. His career thrown off the tracks years ago due to his penchant for compulsive gambling, heavy drinking, and frequent recreational drug use, Taylor struggles to keep his additions under control. Sure, he still plays the horses every now and then, but the less that his wife Lorraine (Maura Tierney) knows about that, the better. When Lorraine's sister discovers that her 20-year old daughter Amanda (Brittany Snow) has been working as a Las Vegas prostitute, she calls the family together for an emergency meeting. Later, during the ride home, Lorraine discovers Taylor's racing stubs stashed in the glove compartment and announces that she is filing for divorce. Desperate not to lose his wife, Taylor hatches an ingenious plan to win back her affections and prove he's a changed man: he'll travel to Las Vegas, locate Amanda, and take her to rehab in Malibu. It's a noble plan indeed, but can a man given to such vices truly exercise the Herculean restrain needed to avoid the blackjack tables and accomplish his noble mission while traveling through the sordid streets of a city built on the very foundation of temptation?
News & Interviews for Finding Amanda
Critic Reviews for Finding Amanda
Audience Reviews for Finding Amanda
CAST: Matthew Broderick, Maura Tierney, Brittany Snow, Peter Facinelli SUMMARY: A television producer with a penchant for drinking and gambling is sent to Las Vegas to convince his troubled niece to enter rehab. MY THOUGHTS: "It was much funnier then I had expected it to be. The topics are pretty heavy, but talked about in a dark humor kind of way that makes the issues less serious then what they really are. I guess if you want to find humor in prostitution, gambling, and alcoholism then this is the movie for you. I will say in the end he does say some deep meaningful words to her and that's when it's not so funny anymore. The ending is what I expected and predicted it would be. So see this for a good laugh if nothing else. Matthew Broderick was funny, and Brittany Snow really made the Uncle and Niece relationship extra special awkward. Good rent for a lazy day."
♥˩ƳИИ ƜѲѲƉƧ♥
Super Reviewer
This was much better than I expected. Funny in a dark way and quite moving as well.
Nicki Marie
Super Reviewer
Hilarious and awkward. My kind of funny...
Leigh Ryan
Super Reviewer
Finding Amanda Quotes
There are no approved quotes yet for this movie.