A Fine Madness
(1966)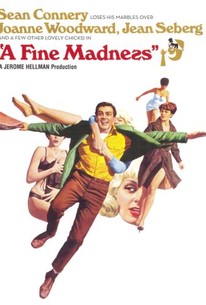 Movie Info
Sean Connery attempted to make a clean break from his "James Bond" image in the boisterous comedy A Fine Madness. Connery plays Samson Shillitoe, a Brendan Behan-like poet with a mile-wide misogynistic streak. Try as he might to complete his latest masterpiece, Shillitoe is constantly interrupted by the women in his life. Driven to a nervous breakdown, he seeks help from the medical establishment -- and ends up a babbling shell of his former self. The film takes scattered potshots at a repressive society that forces the truly creative among us into near-madness; at times, it is sidesplittingly funny, though never quite as potent as the Elliot Baker novel upon which it is based. Sean Connery is brilliant, but the public wanted James Bond to behave himself, thus the film didn't do as well at the box office as it should have.
Critic Reviews for A Fine Madness
Audience Reviews for A Fine Madness
Two fine actors, Sean Connery and Joanne Woodward are lost in this loud, boorish "comedy". They shout and act like idiots. An extremely fine and varied supporting cast is entirely wasted although there is a lovely performance from Colleen Dewhurst and get a load of the height of Sue Ane Langdon's hair! A missed oppurtunity.
A Fine Madness Quotes
There are no approved quotes yet for this movie.