Fire With Fire
(2012)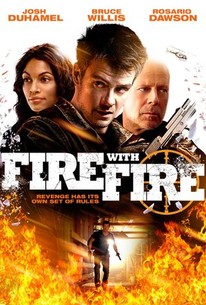 Movie Info
A firefighter who witnessed a deadly convenience store robbery enters the Witness Protection program, but is forced out of hiding after being targeted for death by the racist crime boss who's determined to see him dead. Jeremy Coleman (Josh Duhamel) was just finishing a long day of work when he ducked into the store for a few beers. Little did he realize his life was about to be changed forever. In the blink of an eye, ruthless white supremacist Hagen (Vincent D'Onofrio) bursts into the store, and guns down the clerk in cold blood. Terrified, Jeremy makes a daring escape amidst a hail of gunfire. Later, Hagan is arrested and police detective Mike Cella (Bruce Willis) takes charge of the investigation. When Jeremy sits down to identify Hagen in the line-up, however, the sociopathic madman reveals that he knows everything about the "anonymous" witness behind the two-way mirror. As Hagan's trial approaches, Jeremy is forced to give up his job to be placed in the Witness Protection program. Meanwhile, he enters into a passionate romance with U.S. Marshal Talia Durham (Rosario Dawson). When Hagan's attorney succeeds in having his client released from prison just weeks before the trial, the killer's henchmen come gunning for Jeremy and Talia. The situation turns critical when Talia is mortally wounded, forcing Jeremy to flee for Long Beach, Ca. Once there, Jeremy realizes that his only hope for protecting Talia is to rally Hagan's enemies against him, and fight alongside them as they aim to take down the vengeful killer once and for all.
Critic Reviews for Fire With Fire
Audience Reviews for Fire With Fire
Revenge has its own set of rules. Good Movie! The movie itself isn't anything new or amazing but it is actually pretty fast paced and keeps you interested and watching the entire time. The movie when you break it down is just another vigilante type revenge movie but again because it's so fast paced and entertaining you can't stop watching. Also Vincent D'Onofrio gives such a great performance in this that watching for just for him is almost enough to keep you till the end. Overall, this is a fast paced exciting action movie that is the perfect kind to just put in and veg out to. I liked it. After witnessing the brutal murders of a convenience store owner and his son; firefighter, Jeremy Coleman barely escapes with his life. As he is forced to testify against the crime lord, Hagan, he is placed in the witness protection program under the watch of the U.S. Marshals. As his new identity becomes compromised Jeremy is forced to take an unexpected course of action in order to get his life back and save the lives of those he loves.
Decent. Watchable. More a Josh Duhamel movie, than a Bruce Willis movie. Nothing very exciting, though, in either case....
Cynthia S.
Super Reviewer
½
Poorly done, nonsensical crime drama that somehow managed to attract many name actors to it.