Firelight
(1997)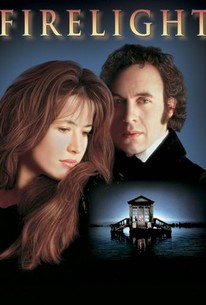 Movie Info
In 1838, lovely governess Elisabeth agrees to bear a child of anonymous English landowner, and he will in return pay her father's debt. At birth she, as agreed, gives up the child. Seven years later she is hired as governess to a girl on a remote Sussex estate. The father of the girl, Charles Godwin, turns out to be that anonymous landowner. So Elisabeth has to be her own daughter's governess, and she can't reveal the secret of her tie with little Louisa.
Critic Reviews for Firelight
All Critics (14) | Top Critics (4) | Fresh (7) | Rotten (7)
Though sometimes predictable, Nicholson's film is sustained by the quality of his writing, especially the musings about the magical powers of firelight, by the almost surreal lake house scenes and by the scoring of Christopher Gunning.
I wish someone would explain to me why all these 19th Century costume dramas need to be so cheerless, so formal, and so godawful boring.
What Firelight most tellingly lacks are riveting star performances to inevitably reel us in to its romantic absurdity.
Audience Reviews for Firelight
½
My wife and I enjoyed this a lot more than the critics did, obviously. It has its flaws, and some people can't get past the low-key nature of this romantic drama. Firelight takes you through a wide vareity of highs and lows as you follow the life path of Sophie Marceau's governess character. The casting is excellent, and this period piece has a lot of romantic and redemptive moments. It's not Jane Austen level, or a Bronte novel, but its effective and detailed. The social mores of the time are difficult to understand now, but Marceau gives a sympathetic performance. The twist is easy to unravel, but the suspense of what's going to happen, and how it will all play out, for good or ill, is the interesting journey this film takes.
½
"It's a kind of magic. Firelight makes time stand still. When you put out the lamps and sit in the firelight's glow there aren't any rules any more. You can do what you want, say what you want, be what you want, and when the lamps are lit again, time starts again, and everything you said or did is forgotten. More than forgotten it never happened."
Jeremy Smith
Super Reviewer
Leigh Ryan
Super Reviewer
Firelight Quotes
There are no approved quotes yet for this movie.