Firestarter 2: Rekindled
(2002)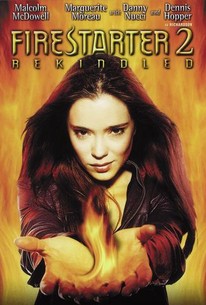 AUDIENCE SCORE
Critic Consensus: No consensus yet.
Firestarter 2: Rekindled Photos
Movie Info
A belated sequel to the 1984 film version of Stephen King's Firestarter, this made-for-TV thriller is set in motion by the covert activities of "The Shop", a secret government lab. Having created a whole flock of genetically altered children with special powers, the evil Dr. John Rainbird (Malcolm McDowell) intends one day to take over the world. Trouble is, so many of Rainbird's "experiments" have either escaped or otherwise assimilated themselves into society beyond his control, notably his pet "project", the telekinetic Charlene "Charlie" McGee (Marguerite Moreau), who has the ability to start fires simply by thinking about them -- or, as she grows older, by kissing someone of the opposite sex. With the erstwhile assistance of a fellow SYS alumnus, the mercurial James Richardson (Dennis Hopper), combustible Charlie endeavors to rescue the other youthful guinea pigs from the clutches of Dr. Rainbird. Filmed in Utah and originally broadcast by the Sci-Fi Network as a two-part, four-hour miniseries, Firestarter: Rekindled initially aired on March 11 and 12, 2002.
Critic Reviews for Firestarter 2: Rekindled
All Critics (3) | Top Critics (1) | Fresh (3) | Rotten (0) | DVD (2)
It may not be a masterpiece, but "Rekindled" is a fun genre film that expands the "Firestarter" lore...
Though it lacks the energy of the first, it's an entertaining sequel with much more action and suspense.
July 13, 2007 | Rating: 3/5
Audience Reviews for Firestarter 2: Rekindled
Sequel to an already bad film, Firestarter 2: Rekindled is an unnecessary film that continues what the first film tried to do. This film is sloppy in its conception, and I felt that they could have done much better than this. Considering some impressive names attached to this project, I'm surprised that the film was this bad. The film suffered from a poor script and unfocused directing. This suffers from many stand points. The main reason is because that this sequel is a sequel to a bad Stephen King adaptation. The Firestarter adaptation was a bad sci fi horror flick with a bad cast that didn't deliver. This film was not needed, I mean the first one was sloppily made and is for me one of the worst adaptations of a Stephen King novel. Rekindled has all the elements that make up a bad film. Just because there's some impressive names in the cast doesn't mean that this is a good flick. The film just doesn't deliver anything of note. Rekindled is a film that is not worth your time. The filmmakers clearly didn't care for this film. The film has an awful plot that makes this sequel not worth your time. This is a boring, unimpressive film that was totally not worth watching. The film, like the first film could have been great, unfortunately there's too many flaws displayed on-screen. The film simply doesn't work due to a poor script, and like I said, the weaknesses show. Rekindled is standard made for TV trash. This film is horrible and adds nothing really new to an already bad Stephen King adaption (Firestarter) which makes this one a pointless and painful film from start to finish.
½
Looking every bit like the first installment of a planned tv series (some original programming for SYFY or FX maybe), this has the rushed incomplete feel of that medium, forsaking depth and meaning for bigger, louder, faster, while actually achieving none ot that.
Kevin M. Williams
Super Reviewer
I found this movie had made a crushing compared to the first original movie. I really didn't expect to but I actually laughed because I did not think the acting was good enough and really stunk. The story line or script for that matter was completely all over the place and should have been rewritten. Not good enough for my view. They should have got Drew Barrymore again when she was grown up in her teens for the same part but a better story line. That little girl in the movie, her acting was terrible, I am not allowed too, I am not allowed too, she kept saying those words in which you wouldn't expect her to say them. Who ever wrote that script should be shot compared to the original it was killed off and I feel sorry, other wise I was getting ready to see a very good movie but what I got was trash.
Cassandra Maples
Super Reviewer
Firestarter 2: Rekindled Quotes
There are no approved quotes yet for this movie.