Firewall
(2006)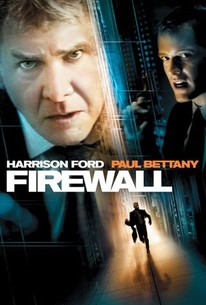 TOMATOMETER
AUDIENCE SCORE
Critic Consensus: Harrison Ford's rote performance brings little to this uninspired techno-heist film whose formulaic plot is befuddled with tedious and improbable twists.
Movie Info
A businessman becomes the last line of defense for his family and his business in this thriller. Jack Stanfield (Harrison Ford) is an upper-echelon technology executive at Landrock Pacific Bank, a leading financial institution based in Seattle. Stanfield oversees security for Landrock, and has made sure that their online banking services are the best-protected in the world, and that the bank's data is safe from hackers and other intruders. However, Stanfield finds out the hard way that his system does indeed have a flaw when he's visited by Bill Cox (Paul Bettany), a cold and calculating man who has spent months learning everything there is know about Stanfield and his family. Cox's underlings have taken Stanfield's wife, Beth (Virginia Madsen), and their two children hostage, and they inform Jack that they will be released only when he uses his knowledge of the bank's security systems to deposit 100 million dollars in Cox's account in an offshore bank. Stanfield is deeply wary but willing to go along to ensure the safety of his family, but when he has reason to doubt that Cox and his cohorts will live up to their end of the bargain, he swings into action to exact justice against the criminals. Firewall also stars Alan Arkin, Robert Forster, and Mary Lynn Rajskub. ~ Mark Deming, Rovi
News & Interviews for Firewall
Critic Reviews for Firewall
Audience Reviews for Firewall
Firewall is a cliché riddled action thriller that doesn't do anything to thrill or entertain you. Firewall is actually quite boring, and the concept, though somewhat intriguing, fails to be thrilling. Firewall disappointed me and I was hoping for something better than this. Unfortunately the film ends up falling flat, and is very, poorly conceived. Harrison Ford seems bored in the role he's playing, and the story is clumsy, poorly constructed, and like I said relies on Clichés to create the so called thrills and tension. Firewall is one of the worst thrillers that I've seen in the last couple of years, and the film suffers from a poor script that doesn't have a well developed story, and the end result is a film that is very anti-climactic. The film is pretty boring, and the cast, despite the fact that they are talented, are fairly wasted here. Firewall is a poorly conceived film that isn't good and it really does fail at delivering the thrills. The film could have been much better than, and it had the potential of being a solid action thriller, unfortunately the film falls through halfway in, and there are no redeeming factors to redeem the weak plot and poorly constructed ideas. If you're looking for a solid thriller film, then Firewall is not that film. There are better films out there. Firewall is an uninspired film that relies on a derivative formula to thrill its audience. A very boring, and unimpressive film that could have been much better than this. This was a film that looked promising, but turned out to be a big disappointment. Avoid this if you're looking for a good thriller, you won't find it here.
Not that bad of a film. Worth a watch!
Bethany Murphy
Super Reviewer
½
Leave my family alone! Get off my plane!
Lenny Muggsy
Super Reviewer