First Blood
(1982)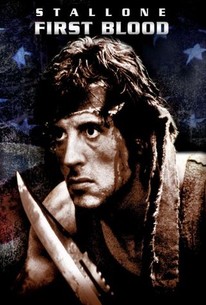 TOMATOMETER
AUDIENCE SCORE
Critic Consensus: Much darker and more sensitive than the sequels it spawned, First Blood is a thrilling survival adventure that takes full advantage of Sylvester Stallone's acting skills.
Movie Info
A former Green Beret must use all of the guerrilla tactics he learned in Vietnam to save himself after he is falsely accused of a crime while visiting the lush and wild Pacific Northwest in this heart-pounding actioner. This is the Sylvester Stallone film that introduced the world to the Rambo character who would go on to headline a couple of sequels.
Critic Reviews for First Blood
Audience Reviews for First Blood
½
The later Rambo films do not have a very good reputation, and deservedly so. But the first part actually has a lot more to offer than just pointless action. It is the story of a Vietnam vet who can't seem to find a place in America's society anymore. Things get out of hand pretty quickly and Rambo is as much to blame as the asshole sheriff. The action scenes aged pretty well and are still great. The social commentary seems more current than you could imagine.
½
The most popular action movie of the decade, it's got a good story and a lot of exciting action. I highly recommend it.
½
Sylvester Stallone stars as John Rambo: a lonely, alienated, and troubled Vietnam vet just trying to move on with his life until he gets unlawfully provoked over a misunderstanding, and finds himself in a war against a sheriff's department and the national guard. The fight doesn't seem fair, mostly because Rambo is outnumbered, but all bets are off since he's a former Green Beret, and he's had a really hard time moving on with his life. Unlike the sequels, this one is (for the majority of the run time) more of a dramatic survival story and not a balls-out action film. I really loved the focus on stealth and guerrilla tactics over pure brute force. It's a great character study with focus on vet's rights, PTSD, and intolerance. It does get kinda preachy, but nevertheless is still very compelling and gripping. Sylvester Stallone is wonderful. He shows off his action skills, and he's great as expected, but where things really shine is with the character and the acting. The action is a main part of who he is, but he's still a flawed and rounded character. Stallone really has to act here at times too, delivering what's still the most dramatic monologue of his career that actually sees him breakdown in tears. It's not often you see something like this, much less have it actually be really powerful and moving. Bravo. For supporters, we get a young David Caruso that's kinda fun to watch, but the main support that really holds the film up is with Brian Dennehy as the determined narrow minded sheriff and Richard Crenna as Rambo's mentor- perhaps the only one capable of bringing the senseless conflict to an end. Both are great, and this is some of their best work. You sort of sympathize with the sheriff a bit, but probably not as much as you should. The film really paints it as Rambo good, everyone else bad, and that's a shame that they didn't go for a bit more complexity or moral ambiguity in that area. Things fare better with Crenna's character, but he too could have been a tad more developed. That's really my only major issue here: the film is a bit too one sided, and towards the end, things just kinda start crumbling. I get how Rambo said that if they kept pushing he'd really ramp it up, but when this all happens it just took me out of it all somewhat, and seemed a bit inconsistent. Fortunately things don't crap out too much, and the film does conclude pretty satisfactorily. It's just the lead up to the climax where it has its stumble. The film is well shot, the locations are great, there's pretty strong direction, neat ideas, and, probably most effective next to the acting, we get Jerry Goldsmith's absolutely thrilling and brilliant score. I still get chills every time I hear the opening notes to the main theme. EVERY time. Definitely check this one out.
Chris Weber
Super Reviewer
First Blood Quotes
| | |
| --- | --- |
| Trautman: | You're not hunting him.... he's hunting you. |
| | |
| --- | --- |
| John Rambo: | They drew first blood, not me. |
| | |
| --- | --- |
| John Rambo: | Don't Push it. Don't push it, or I'll give you war you won't believe. Let it go. (menacingly) Let it go! |
| John Rambo: | Don't Push it. Don't push it, or I'll give you war you won't believe. Let it go. [menacingly] Let it go! |