First Knight
(1995)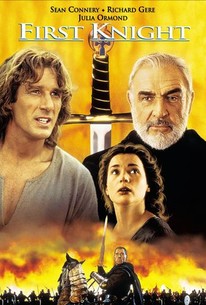 TOMATOMETER
AUDIENCE SCORE
Critic Consensus: This unimaginative reimagining of Arthurian legend dispenses with the magic without achieving a convincing realism in the bargain, suffering from fatal miscasting and a lack of romance.
Movie Info
This rendition of the popular Arthurian tale strips away the mythology and magic and deals with more realistic conflicts as the characters try to balance their passions with their political obligations. Lady Guinevere marries King Arthur to forge a valuable political alliance but discovers that her heart lies with Lancelot.
News & Interviews for First Knight
Critic Reviews for First Knight
Audience Reviews for First Knight
Not a serious historical piece (and what do we really know of Pendragon anyway?) but a children's fable extolling virtue, the Zuckers take a chance with this glittering fairy tale. Connery is the Arthur the story wants, or is it that we want Connery to be Arthur, its hard to tell. Gere supplies the dashing derring-do as Lancelot, and Ormond fills the difficult position of being torn between two lovers fetchingly.
Kevin M. Williams
Super Reviewer
½
Starts off mediocerly, but once Sean Connery enters the stage as the fabled King Arthur, the quality level is instantly raised. Richard Gere looks a bit misplaced as the fearless Sir Lancelot, and wouldn't have been my first pick for the role, but he still takes it on to the best of his abilities. As for Julia Ormond, she's quite lovely as Princess Guinevere, altough I would have very much liked to see her put a little more energy into her performance. What speaks for the film in positive terms, however, is the atmosphere and action, along with a highly enchanting music score by the brilliant Jerry Goldsmith. It's so good, in fact, that I've made it a part of my inspirational music library. If there is one thing I could change though, it would be the costumes. They look a little plain and cheap for what is essentially a period piece. Maybe they ran out of money when it came to clothing the actors? Apart from said maladies though, it remains a captivating tale of love, chivalry and sweeping adventure. Easily one of the better renditions of the Arthurian legend.
Another terrible rendition of King Arthur. Turning the story into nothing more than a romantic threesome is just pure slander. To change the story to fit a movie is one thing, but this should've just left Arthur's name all together. The acting is terrible, quite possibly Sean Connery's worst performance and the usual Richard Gere treatment.
Conner Rainwater
Super Reviewer
First Knight Quotes
There are no approved quotes yet for this movie.