The First Power
(1990)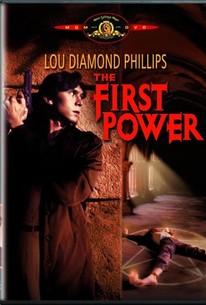 Movie Info
In this lively horror movie, a Satanic psychopath ritually murders his victims and is eventually brought to justice and executed. Unfortunately, the killer has made a deal with the Devil and his spirit is allowed to enter other living bodies at will. With this terrifying talent, the killer remains nearly impossible for the homicide detective to capture. Eventually it becomes apparent that the only one who can stop the murderous entity is a knife-wielding nun.
Critic Reviews for The First Power
Audience Reviews for The First Power
½
Body swap horror is nearly a genre unto itself with 'The Hidden' as the forefather. 'The First Power' is a moody, but dull-witted hybrid of police procedural and supernatural thriller. A priest name-drops Geraldo Rivera within five minutes which really time-stamps the film. Logan (Lou Diamond Phillips) is not an acute detective insofar as he fumbles incompetently on a city map until he finally realizes that the occult killer's pattern is an inverted pentagram even though his modus operandi is carving them into his victims. The serial killer Patrick Channing (Jeff Kober) inexplicably adorns himself with a crusty-old-man mask which is a needless flourish. Apparently recovery from almost fatal abdominal stabs is practically instantaneous. Plotholes abound with a psychic informant (Tracy Griffith in a pitiful performance) who isn't forthright and explicitly state that Channing will be eternally resurrected if he receives the death penalty. Despite her clairvoyance, Griffith is shocked when Logan and his partner Oliver (Mykelti Williamson) are rummaging through her house. An extremely schlocky death is when Oliver's internal organs are stomped by a carriage-hitched horse. The lone commendable aspect in this otherwise joyless enterprise is the lithe stuntwork (ex. A death-defying leap off a six-story building). The cat-and-mouse chase is predominantly listless because there is no depraved symbiosis between Phillips and Kober.
Cory Taylor
Super Reviewer
½
Awesome action/horror/thriller casts LOU DIAMOND PHILLIPS as a detective attempting to stop the evil spirit of a maniac executed in the gas chamber for a series of satanic murders. With the help of a nun & psychic, Phillips must find a way to end the horrible killing spree, save themselves & prove the maniac exists before he gets framed or worse killed by the psycho. Well acted & directed thriller is very fast paced & action packed from first frame till last, never stopping to take a breath & is much better than THE HORROR SHOW (A.K.A. HOUSE 3) SLEEPSTALKER & in someways beats out WES CRAVEN'S SHOCKER in a variety of ways. The film has many creepy images & a few shocking murders (usually we see the aftermath) & plenty of plot twists & turns. Highly recommended. Such a shame a sequel was never made. 4 1/2 stars 5-15-13
Bruce Bruce
Super Reviewer
Lou Diamond Phillips plays Detective Russell Logan -- on the bloody trail of a demonic killer who can inhabit different forms and perform super-human feats. Detective Logan is aided by a Psychic (Tess Seaton), who helps him locate the evil force. It is an action-packed showdown against evil with some really cool chases and battles. Suspenseful and fun!
Lafe Fredbjornson
Super Reviewer
The First Power Quotes
There are no approved quotes yet for this movie.