The Fisher King
(1991)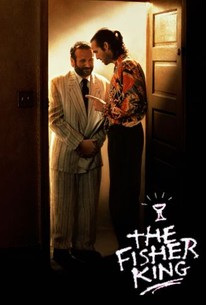 TOMATOMETER
AUDIENCE SCORE
Critic Consensus: An odd but affecting mixture of drama, comedy and fantasy, The Fisher King manages to balance moving performances from Robin Williams and Jeff Bridges with director Terry Gilliam's typically askew universe.
Movie Info
Terry Gilliam directed this adaptation of Richard LaGravenese's mystical (and mythical) tale of redemption in the hard-time town of New York City. Jeff Bridges is shock radio DJ Jack Lucas, whose low opinion of humanity lends itself well to his radio talk show, where the enmity rubs off on his listeners. One fan in particular takes Jack's rants to heart and goes to a fancy restaurant with a gun, murdering innocent diners. Jack is so distraught at what his on-air suggestion wrought that he sinks into a three-year depression, drinking himself to sleep and mooching off of his girlfriend Anne Napolitano (Mercedes Ruehl, in an Oscar-winning performance), an attractive owner of a video store. Hitting bottom, Jack slumps to the river, prepared to commit suicide. To his rescue comes a crazed but witty homeless man named Parry (Robin Williams), who tells Jack he's destined for great things -- all his has to do is find the Holy Grail (conveniently located in mid-town Manhattan) and save Parry's soul. He also wants Jack to help him out with the woman of his dreams, Lydia Sinclair (Amanda Plummer), a shy type who works at a publishing company. Parry was once a university professor became unglued by a tragic event in his past; Jack soon realizes that to save himself, he first must save Parry.
News & Interviews for The Fisher King
Critic Reviews for The Fisher King
Audience Reviews for The Fisher King
A powerful and moving performance by Robin Williams is tempered by Jeff Bridges who just doesn't seem up to the task of portraying a character of any depth. Oh, and that hair! Dare I comment on the gawd-awful early 1990's fashion?
Christian C
Super Reviewer
½
An intriguingly original mix of fantasy, drama, and comedy concerning a brash radio host (Jeff Bridges) who feels responsible once one of his listeners goes off the edge and goes on a shooting spree. One of those affected by this tragedy, now a crazed homeless man (Robin Williams), crosses paths with the now haunted DJ, and the radio host feels this is his chance at redemption, even though his girlfriend (Mercedes Ruehl) is not supportive of it at first. Director Terry Gilliam is well known for being fairly whimsical and goofy with his material, and this film is no exception. It feels a tad unnecessary at times, but the script itself is so strong, and the performances are all so, so good, that this film remains likeable throughout its running time. It balances a lot of heavy material such as loneliness, madness, and depression very well, and New York City proves to be the perfect backdrop for a story such as this one.
Dan Schultz
Super Reviewer
½
With the death of Robin Williams, in review this film may be one of his performances that leave you heartbroken. Williams plays Parry, a homeless vagrant who is still reeling from the murder of his wife three years prior, via an insane mass shooter. Bridges is a shock jock whose thoughtless antics leads said mass shooter to do the deed. Playing on this achingly pathetic set-up, director Gilliam leads us by the hand through his mystical world, created by the bitterness of grief, the terror of self-actualization, and the wonder of change. Bridges and Williams both engender the sympathy of the audience with their human performances, symbiotic and yet complete opposites. The symbolism of the Red Knight is mythological but also telling of the psychological trauma induced by his wife's death. It is both the driving fear of the unknown and also the self-hatred that lends itself to Parry's psychosis. This symbol can be regarded as everyone's true fear, anyone's anxiety inducing parallel, and that not only is very touching when regarded as a metaphor for mental illness, but for those running from something in general. Very beautiful in execution, and always heartbreaking, no matter the context, Gilliam created a vivid world, and an even wilder set of characters for us to fall in love with.
Spencer S.
Super Reviewer
The Fisher King Quotes
| | |
| --- | --- |
| Anne Napolitano: | No! You don't get to be nice! I ain't gonna play a stupid game where we act like friends so you get to walk out feeling good about yourself. I'm not a modern woman. If this is over, let's just call it over. |
| | |
| --- | --- |
| Anne Napolitano: | Bullshit! If you're gonna hurt me, hurt me now. Not some long, drawn out hurt that takes months of my life because you don't have the balls! |
| | |
| --- | --- |
| Anne Napolitano: | Bullshit! If you're gonna hurt me, hurt me now. Not some long, drawn out hurt that takes months of my life because you don't have the balls! |
| | |
| --- | --- |
| Lydia Sinclair: | I'm not feeling very well. |
| Parry: | Well, no wonder. We just met, made love, broke up, all in the space of 30 seconds. I don't remember the first kiss, which I think is the best part. |