F.I.S.T.
(1978)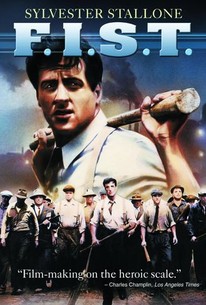 Movie Info
Johnny Kovak (Sylvester Stallone) is a trucker for a large and abusive company in the 1930s. He gets involved in union organizing for Mike Monahan (Richard Herd), a representative of the Federation of Insterstate Truckers (F.I.S.T., for short). When Mike is killed by company thugs, Johnny seeks out Vince Doyle (Kevin Conway), the local mob leader, to get some rough justice for his fallen colleague. Once his alliance with the Mob is sealed, Johnny swiftly rises to prominence in the union, becoming more and more ruthless as he goes. Having risen very high in worldly power, he now wonders if his sellout was worth it, even though he accomplished a few good things. This expensive film, in which Sylvester Stallone abandons the "type" he played in earlier films, was moderately well-received by critics but was a resounding failure at the box-office.
Critic Reviews for F.I.S.T.
Audience Reviews for F.I.S.T.
When you read about the plot in this film and the run time it doesn't seem very appealing but I have to say I enjoyed it, The story isn't nothing new, A man starts a company needs help from the wrong people and traps himself in a corner but Stallones performance was brilliant maybe because he was fresh from his Oscar win from Rocky but he played a great part in keeping this movie from becoming stale, Won't be everyones cup of tea but I didn't think it would be mine and usually it's not but I got proved wrong yet again.
Jamie Clarke
Super Reviewer
It's well made but lacking any narrative so it just lurches along.
Marcus Woolcott
Super Reviewer
½
Definetely a great Sylvester Stallone film. I don't know he just has that certain coolness factor about him. Rent this movie!!!
Cassie Hill
Super Reviewer
F.I.S.T. Quotes
| | |
| --- | --- |
| Johnny Kovak: | We got anymore burying to do in the graveyard, they better get-out their shovels........cause we're through taking punches. |