Fist of Legend (Jing wu ying xiong)
(1994)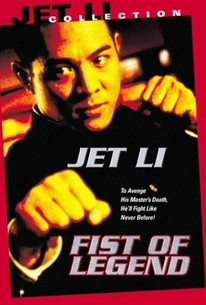 Movie Info
Jet Li stars in this historical Hong Kong action film, as Chen Zhen, a Chinese student in Japan in the 1920s. When his master is killed during the Japanese occupation of China, he returns to avenge his teacher's death. Back in China, he finds himself caught in the escalating racial tensions between the Chinese and the Japanese. The martial arts sequences in this 1994 film are handled more seriously than flashy acrobatics of other kung fu epics of the time and are perhaps a better showcase for Li's awe-inspiring fighting abilities. This story is inspired heavily by Bruce Lee's classic Fists of Fury. ~ Jonathan E. Laxamana, Rovi
Critic Reviews for Fist of Legend (Jing wu ying xiong)
Audience Reviews for Fist of Legend (Jing wu ying xiong)
Gordon Chan's Fist of Legend lives up to its name without fail.
As far as the 100 minute story goes, Fist of Legend satisfies enough with its racial tension between the Chinese and Japanese. The plot details, while not at all surprising in any way, are good enough to bring about martial arts confrontations with a purpose.
There is high praise for the action throughout this picture. The martial arts choreography is fantastic and the fights come as high octane pleasure for the eyes, especially in the final 30 minutes.
Jet Li has some ups and downs with his acting, but all is forgivable when he brings up his fists. Chin Siu Ho, Yasuaki Kurata, and Billy Chow all chip in with the kung fu as well.
There's no secret that the highlight of Fist of Legend is the action; that's more than enough to make it a recommendable film.
Fist of Legend is really highlighted by some impressive fights that favor realism over wire-driven choreography. However the plot is still your standard issue mix of escalating racial tensions between the Japanese and Chinese, differing methods of rival martial arts schools, and good old fashioned revenge. This barely made a dent in Hong Kong's box office when it was first released. I didn't find the story to be particularly revolutionary but connoisseurs of the genre have since labeled this as one of the greatest martial arts pictures of all time. It certainly paved the way for Jet Li's launch into Western cinema. The bouts are admittedly pretty spectacular. One especially exciting scene occurs when Jet Li visits the Japanese dojo to challenge the assailant who killed his master teacher. His many students attempt to stop him but Jet Li's talent proves too formidable and he defeats the entire class, even taking a moment to tie his shoes in the process. Later Jet Li challenges a surprisingly sympathetic Japanese Karate Master in a field...blindfolded. And finally there's the climatic battle where he goes against General Fujita, the Supreme Killer. Any one of these would be an incredible set piece, but taken together it's a lot of bang for your buck. If a martial arts film is judged by the quality of its fight scenes then Fist of Legend is worth checking out. fastfilmreviews.wordpress.com
Mark Hobin
Super Reviewer
½
A Chinese martial artist studying in Japan returns home to find his master has been killed during a tournament, but when he faces the inadequate skills of the victor he suspects foul play. A remake of Bruce Lee's Fists Of Fury, Fist Of Legend is a Kung Fu film from the old school that features the usual ingredients of racial tension, rival schools bound by honour and a fight-melodrama-fight-melodrama-fight format. It's a great showcase for Jet Li's physical prowess as it concentrates on a more naturalistic representation of the bouts rather than the usual floating around on wires and the action sequences are suitably impressive. Unfortunately the characterisation is typically cliched and stereotypical and the direction lacks sophistication making for some rather long winded and tiresome interludes in between. Worth it for some nice fight choreography but it's very much a by the numbers chop socky action film that was bettered in every department by the infinitely superior Fearless Li went on to make in 2006.
Fist of Legend (Jing wu ying xiong) Quotes
There are no approved quotes yet for this movie.