Fitzcarraldo
(1982)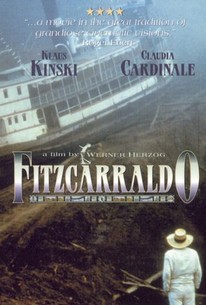 TOMATOMETER
AUDIENCE SCORE
Critic Consensus: With a production as audacious as the feat it's depicting, Fitzcarraldo comes by its awe-inspiring spectacle honestly, even when it declines to examine the darker implications of its hero's dream.
Movie Info
German filmmaker Werner Herzog has never done anything by halves. When Herzog tackled Fitzcarraldo, the story of an obsessed impresario (Klaus Kinski) whose foremost desire in life is to bring both Enrico Caruso and an opera house to the deepest jungles of South America, the director boldly embarked on the same journey, disdaining studios, process shots, and special effects throughout. The highlight of the story is Fizcarraldo's Herculean effort to haul a 300-plus ton steamship over the mountains. No trickery was used in filming this grueling sequence, and stories still persist of disgruntled South American film technicians awaiting the opportunity to strangle Herzog if he ever sets foot on their land again. In the end, Herzog proved to be as driven and single-purposed as his protagonist, and it is the audience's knowledge of this that adds to the excitement of Fitzcarraldo.
Critic Reviews for Fitzcarraldo
Audience Reviews for Fitzcarraldo
½
An intriguing though at times very plodding film concerning a very ambitious man (Klaus Kinski) who is inspired to try to build an opera house in the jungles of South Africa. Director Werner Herzog does a fabulous job capturing the lower-class and primitive working status of these areas, but wisely avoids this being an exercise of "fish out of water" with Kinski's character. The film does go on too long, but it does remain interesting even when it starts to lose steam in the middle portions. Kinski's bug-eyed bewilderment and passion are perfect for this character, and he is the biggest reason of all this film is a success and viewed by many people to be a masterpiece.
Dan Schultz
Super Reviewer
½
This is art. This is visual lyric poetry. This is a portrait of desire, obsession, passion at its best. Barry Fitzgerald, who goes by Fitzcarraldo, is a would be rubber baron determined to bring high culture to Peru by building an opera house in the middle of the jungle, even if it means the potentially suicidal task of hauling a massive steamship over a mountain. Despite the danger, he will not stop, as his obsession is something that seemingly cannot be sated. What really makes the film captivating is how Herzog's determination to make the film using real people, no models, and a full scale real ship mirrors that of the character. This just might be the most amazing portrait of ambition ever. This is not a flawless or perfect film though. It is maybe just too long, too meandering at times, but even then, there is no denying that this film exists on a plane all its own. There are no directors that can be compared to Herzog. Terrence Malick, maybe. But even then, Herzog is truly one of a kind. Kinski is brilliant- a little more restrained than I anticipated, but still very driven and determined to make his dreams come true nonetheless. It's a pity films are not, and will not ever be made like this again, but one could only hope that, even if they can't reach the same level as Herzog, they could still try.
Chris Weber
Super Reviewer
Jonathan Hutchings
Super Reviewer
Fitzcarraldo Quotes
| | |
| --- | --- |
| Brian Sweeney Fitzgerald/Fitzcarraldo: | That slope may look insignificant but it's going to be my destiny. |