Five Corners
(1987)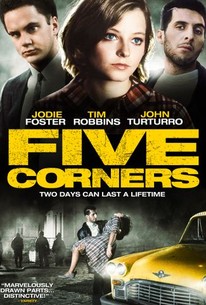 Movie Info
A violent and psychotic rapist is released from prison and returns to his old neighborhood to terrorize the locals. A few of the neighbors find their lives turned upside-down by his return, and this film is their story.
Critic Reviews for Five Corners
All Critics (9) | Fresh (7) | Rotten (2)
Bill presents his story of 5 Corners with a delicate mix of passion and humor, satire and devotion. It's the story of a time in America that became a crossroads for a generation, as well as for a unique neighborhood called 5 Corners.
Reminds you that you can still find small treasures in all the piles of low-budget cinematic junk that are out there.
Screenplay writer John Patrick Shanley fails to shed any new light on the thorny problem of senseless urban violence.
March 27, 2004 | Rating: 2/5
Audience Reviews for Five Corners
When the man who tried to rape her is released from prison, a woman elicits the help of a man who has sworn off violence. This is how not to do exposition. Three different characters tells the same story about what happened before the film's events, and this isn't like Rashomon in which the characters' stories differ. Then, we have a tangential murder of a schoolteacher, which is a plot line that falls through the cracks until the deus ex machina, and four other characters who go on a date. The basic point is this: the story, penned by John Patrick Shanley, is a mess. John Turturro plays a great street tough, and he brings humanity to a role that requires him to do inhuman things - often without explanation. I also like Tim Robbins's performance even though his character is inconsistent. Overall, I think this film is about violence and responsible responses to it, but it's hard to tell because of all the bad writing.
Jim Hunter
Super Reviewer
I don't know who said that this was a comedy. Hands down, the most disturbing John Turturro role I've ever seen. I dare you to compare. Watch it for free online.
Sean Gillespie
Super Reviewer
½
A true hidden gem. I don't think I have heard a soul talk about this film but it is truly a good one. A great performance by Turturro..truly frightening.
John Ballantine
Super Reviewer
Five Corners Quotes
There are no approved quotes yet for this movie.