Five Element Ninjas (Ren Zhe Wu Di)
(1982)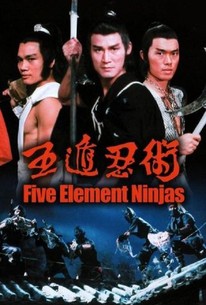 AUDIENCE SCORE
Critic Consensus: No consensus yet.
Five Element Ninjas (Ren Zhe Wu Di) Photos
Movie Info
In this martial arts actioner, a vengeful ninja leader takes on his cohorts after they kill his closest friend.
Critic Reviews for Five Element Ninjas (Ren Zhe Wu Di)
All Critics (1) | Fresh (1) | Rotten (0)
A fresh imagination for martial art battle scenarios and ultimate revenge, sold with a fist-first mentality that carries evenly throughout the production. It's raw, ridiculous, and addictive all the way.
Audience Reviews for Five Element Ninjas (Ren Zhe Wu Di)
aka 'Chinese Super Ninjas' Childhood favorite.
½
Do you like martial arts fighting? Do you like old school kung-fu flicks? If your answer to both of these questions is yes, then this film is just what you've been waiting for.
The story is pretty good with a combination of Chinese and Japanese characters. The story also moves at a very fast pace with tons of fighting in between the slow parts. In fact there are very few slow parts in this film, yet it is enough to actually get the story across and get some good development for the main character(s).
As previously mentioned, the action in here is a plenty. The first 30 minutes of this film is pretty much all action and so is the final 20-30 minutes. Not to mention the other 10 or so minutes in the middle. The concept of the 5 ninja elements (gold, wood, water, fire, and earth) provide some interesting fights with some unique special abilities. Don't be fooled into thinking that since this is an old flick that the fighting is fast and corny. It isn't. The fights are drawn out and the choreography is more than adequate. Even better than some movies of the 90s and today. The final battle is a feast for the eyes. 5 men and 9 spears all over the screen.
The acting isn't all that bad either. Pei Hsi Chen puts on the best performance as the only female character in the movie, while everybody else performs as you would expect from a film of this genre.
Fans of old school kung-fu films will not want to miss this. This is a nice 1 hour and 50 minutes of your time. MASTER!!!!
½
Great ninja film. Heck I'd even say it's SUPER!
Christopher Brown
Super Reviewer
Five Element Ninjas (Ren Zhe Wu Di) Quotes
There are no approved quotes yet for this movie.