The Five Senses
(2000)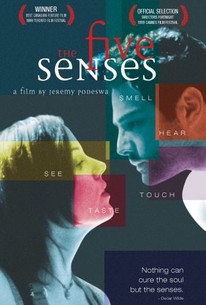 Movie Info
Five characters serve as metaphors for the five senses in this drama about human relationships from Canadian filmmaker Jeremy Podeswa. Ruth (Gabrielle Rose) works as a massage therapist; one day while giving a rubdown to Anna (Molly Parker), Ruth's teenage daughter Rachel (Nadia Litz) takes Anna's toddler daughter for a stroll in the park. However, Rachel loses track of the child and she's soon lost. While searching for her, Rachel meets Rupert (Brendan Fletcher), a voyeur who teaches her about the pleasures of observing others. Meanwhile, Robert (Daniel MacIvor) is a professional house cleaner with an unusually keen sense of smell. Convinced he can smell love, he starts to set up meetings with all of his former lovers to see if he can sniff out any feelings for him -- and, if not, find out why they stopped caring for him. Robert's friend Rona (Mary-Louise Parker) works as a baker but has no sense of taste, a severe occupational hazard. She also has romantic problems, thanks to the arrival of Roberto (Marco Leonardi), a man she met on a recent vacation in Italy. Finally, Richard (Philippe Volter) is an eye doctor who is losing his hearing. While this situation has left him horribly depressed, he meets a woman who helps him feel better about life.
Critic Reviews for The Five Senses
Audience Reviews for The Five Senses
The Five Senses is your (mostly) typical indie urban drama with intersecting lives and stories. The vibe is very late nineties and overall it is nicely done in terms of acting and directing. Something about it makes me rate it a bit higher than films like "13 Conversations About One Thing". I think (contrary to some other reviewers) that it has more heart and a better sense of humor than similar dramas.
Robert Brogan
Super Reviewer
I like movies that make me think - especially when they interweave the characters
Another good Indie effort.
Anthony Valletta
Super Reviewer