The Flamingo Kid
(1984)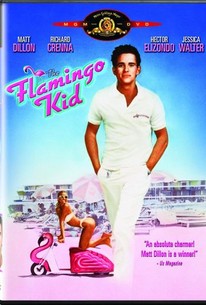 Movie Info
Set in 1963, The Flamingo Kid finds 18-year-old Brooklynite Matt Dillon, the son of blue-collar Hector Elizondo, getting a taste of the Good Life by joining several of his friends at "El Flamingo", a swank Long Island beach club. Wealthy car salesman Richard Crenna, the uncle of Matt's girl friend Janet Jones, befriends the boy and takes him under his wing. Thanks to Crenna's influence, Matt secures a good job at the Flamingo. The boy is bedazzled by Crenna's sumptuous lifestyle, and most especially by the older man's reputation as the Flamingo's reigning gin rummy champ. Dillon begins taking on airs, which alienates his down-to-earth father. Watch for a scene in which, while channel-surfing with his new remote control, Richard Crenna watches a fleeting clip from the old TV sitcom The Real McCoys--featuring Richard Crenna.
Critic Reviews for The Flamingo Kid
Audience Reviews for The Flamingo Kid
I don't know if it's because I'm not a fan of Dillon like some other people who reviewed this film, but I didn't think his performance was so great. I just couldn't get into this movie, and found it boring.
This movie is funny,and cute,and Matt Dillion is so ADORABLE!!!
Cassie Hill
Super Reviewer
The Flamingo Kid Quotes
There are no approved quotes yet for this movie.