Flannel Pajamas
(2006)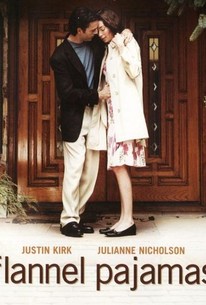 Movie Info
Stuart Sawyer and Nicole Reilly meet through mutual friends on a blind date and experience a magical evening in a local diner on a rainy night in April. It may never get better than this, a feeling they each sense, but a feeling not daunting enough to prevent either their stunning courtship or, later, a reversal of fortunes. Though sexually compatible, their disparate family backgrounds and the religious chasm between them inform their selfishness, their naiveté and their destiny.
News & Interviews for Flannel Pajamas
Critic Reviews for Flannel Pajamas
Audience Reviews for Flannel Pajamas
A finely crafted indie drama, with outstanding performances by Julianne Nicholson and Justin Kirk. It moves forward with such amazing clarity, and painful honesty. Anyone that has ever had to go through a divorce, or even a difficult doomed relationship, can recognize how real this movie is....and sad. This film shows a non-sugarcoated portrayal of love.
Cynthia S.
Super Reviewer
½
Watching this relationship begin is like a bad car wreck. The couple's relationship progresses way too quickly - before we are able to get to know them well and before they are able to really understand each other. More to the point, Stuart is a first-class, grade A asshole. He's almost impossible to like. What is interesting is the film's attempt to give us intelligent characters. It is as though Lipsky saw a Woody Allen movie and said, "I want characters who read in my film too!" Except, when Stuart goes off on his complex analysis of Nicole's character, it is more presumptuous than accurate, more like an authorial voice than his. Structurally, Flannel Pajamas is a mess. Many of the "other things" that interfere in this couple's relationship seem to come from left field. This is particularly true of the mother-in-law's antisemitism, which was so radical a departure from the action that I wondered if this film was too autobiographical ... or simply poorly made. But for all its flaws, I found myself charmed by Flannel Pajamas. I think I respect what the film was trying to do, even though it never got there. After all, life's events, which intrude on our relationships, never happen in manner conducive to good story-telling. Overall, see a real Woody Allen movie or Scenes from a Marriage instead, but if you've seen all of these, then scrape Flannel Pajamas off the bottom of the barrel.
Jim Hunter
Super Reviewer
½
a film that wallows in its own oddity. There are scenes of poetic dialogue and others that are just so obvious that you wonder why they didn't end up on the cutting room floor. There is good acting going on here, but somehow, by the end of the film you just don't care anymore. Many have said that the message of the film is that "real" love can't survive. That's bull - this isn't real love, at least not in the male lead's case - he loves that he can dominate and manipulate her - which, while being a form of self love, shows he doesn't love her at all (proven by his sudden "need" for her after she finally grows a spine and leaves him). The revelations about the lead's envy of his crazy brother hold more attention than the 2nd half of the film, which seems to spin out of control and fall into a pattern of non-sequitors like the hospital cafeteria conversation with the mother, which starts out with her proclaiming anti-semitism, but then saying that had nothing to do with her dislike for him, and her feelings that he wasn't right for her daughter. Ok, I'll buy that often truths are couched behind a smoke screen of other words, but this was just out there and left you feeling ambivelent about the entire affair.
paul sandberg
Super Reviewer
Flannel Pajamas Quotes
There are no approved quotes yet for this movie.