Flash of Genius
(2008)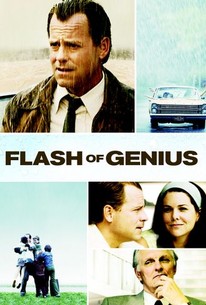 TOMATOMETER
AUDIENCE SCORE
Critic Consensus: The touching underdog story of a single guy against a massive corporation, Flash of Genius is a well-paced and well-written tale with a standout performance by star Greg Kinnear.
Movie Info
The Kearns were a typical 1960s Detroit family, trying to live their version of the American Dream. Local university professor Bob married teacher Phyllis and, by their mid-30s, had six kids who brought them a hectic but satisfying Midwestern existence. When Bob invents a device that would eventually be used by every car in the world, the Kearns think they have struck gold. But their aspirations are dashed after the auto giants who embraced Bob's creation unceremoniously shunned the man who invented it. Ignored, threatened and then buried in years of litigation, Bob is haunted by what was done to his family and their future. He becomes a man obsessed with justice and the conviction that his life's work--or for that matter, anyone's work--be acknowledged by those who stood to benefit. And while paying the toll for refusing to compromise his dignity, this everyday David will try the unthinkable: to bring Goliath to his knees.
News & Interviews for Flash of Genius
Critic Reviews for Flash of Genius
Audience Reviews for Flash of Genius
Considering how predictable the story was, Flash of Genius was a fairly good film to watch. I had some minor issues with the film, and I thought that the film though good, wasn't as good as I'd thought it is. Robert Kearns seeks to be compensated and brings a lawsuit against the Ford Motor Company for patent infringement. Flash of Genius is the true story about Robert Kearns who is credited as one of the first to bring a lawsuit against a big corporation that infringed on a patent. Robert Kearns invented the intermittent windshield wiper and Flash of Genius tells the story of how he invented the wiper and how he fought in court to protect what was rightfully his. Greg Kinnear gives a good performance, but he also kind of makes Robert Kearns look a bit unsympathetic as well. Flash of Genius was a good film, but that was where the trouble lied with the film. Though Kinnear's performance was good, he made Kearns look almost like the bad guy, and looking at what he was doing to his family in the process while fighting his case. You sympathize with Robert Kearns, but almost don't care for him, almost. Flash of Genius could have been a truly great film, but its predictability kind of brought it down a notch. Still, this is a worthy film to watch with good performances, just don't expect anything excellent.
½
Somewhat plodding but a good central performance by Greg Kinnear.
"Corporations have time, money, and power on their side. All Bob Kearns had was the truth." Robert Kearns takes on the Detroit automakers who he claims stole his idea for the intermittent windshield wiper.
REVIEW
One can have a legitimate argument when they voice that most Hollywood bio pics are a "flash in the pan"; but most certainly not "Flash of Genius". Director Marc Abraham's brilliant film on Dr. Robert Kearns, the inventor of the intermittent windshield wiper, was not one wet dud. The narrative motors on Dr. Kearns' legal battle with the Ford Company, whom stole his revolutionary invention. But the narrative does not wipe away Kearns relationship with his wife Phyllis and his six kids, as it plays an integral part in the story. Abraham does drive the motion that Kearns was an obsessive inventor who constantly fixated on obtaining justice for the Ford larceny. The ramification of that fixation for Kearns is that it wiped away his marriage with his mostly supportive but consequently impatient wife which he adored. Even though Dr. Kearns had his egoistic eccentricities, you have to admire his driven determination to stop short on nothing to obtain legitimate justice for his invention. Kearns actually represented himself in his legal battle, which actually provides the film's court scenes to have a semi-comical edge and an inspirational driving-force theme. Director Abraham marvelously invented & constructed "Flash of Genius" with bio clarity on one man's battle. Screenwriter Phillip Railsback scribed up a gripping and inspirational screenplay; ingenious movie wordsmith work here by Railsback. But what wiped me off my socks the most was the astounding performance of star Greg Kinnear as Kearns. I think the Academy did not see it too clear when they did not nominate Kinnear for a Best Actor Oscar for his shining work here. Commendable supporting acting work was also contributed to "Flash of Genius" by the clear-cut performances of Dermot Mulroney as Kearns' friend & business partner Gil Privick, and Alan Alda as a semi-pushy counsel Gregory Lawson.
Lorenzo von Matterhorn
Super Reviewer
Flash of Genius Quotes
There are no approved quotes yet for this movie.