Flatliners
(1990)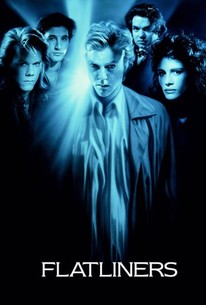 TOMATOMETER
AUDIENCE SCORE
Critic Consensus: While it boasts an impressive cast, striking visuals, and an effective mood, Flatliners never quite jolts its story to life.
Movie Info
In an attempt to discover what awaits us after death, med-school buddies Nelson Wright (Keifer Sutherland), Rachel Mannus (Julia Roberts), Joe Hurley (William Baldwin), David Labraccio (Kevin Bacon), and Randy Steckle (Oliver Platt) concoct a plan to temporarily "flatline" themselves one at a time, stopping all brain activity, to briefly experience death before being resuscitated. A number of them are "killed" and brought back with vivid memories of their past, and the experiment is deemed a success. However, it seems as though they may have gotten more than they bargained for when their past literally comes back to haunt them.
News & Interviews for Flatliners
Critic Reviews for Flatliners
Audience Reviews for Flatliners
"Med students explore to see what might lie beyond death" might be the advertisement, but what one gets is the old bait-and-switch. Instead of that exploration we get pseudo-Freudian analysis delivered by runway cute actors. What happens after death? One's perm still looks good, baby ... and Zoolander pout. Filmed in Chicago.
Kevin M. Williams
Super Reviewer
½
This mild horror thriller about a couple of medicine students who are trying to find the threshold between life and death did not age very well. There is a lot of neon light, fog machines and late 80s sounds. That does make for a very unique atmosphere and is a prime example of the films of that era. The story itself is pretty interesting and has its gloomy and wonderfully mysterious moments, in the end we all wonder what's happening after death. This movie's answer may be a bit naive, but is told in a enthralling way. People can say about Schumacher what they want, but given a decent script the man can film compelling tales. This is no exception and still works for a few goosebumps over Halloween.
½
A film I really feel as though I should have watched sooner. The idea seems so genius to me I don't know why it took me this long to watch it. Flatliners focuses on a bunch of medical students that briefly kill themselves and bring themselves back to life in order to explore the afterlife. However, they each bring back a sin from their past that now haunts them. The idea of experimenting with death is a fascinating one, and I feel like they could have done more with it. Perhaps exploring the nature of time, and mortality itself. Instead we get a very heavy handed anti-bullying message. Quite what near death experiences and past sins have in common I'm not sure. Had the characters been classified as terminally ill and wanted to make a mends themselves, that I could understand. Instead, as we see four characters do the experiment, it becomes very repetitive, and after Bacon comes to peace with his past it doesn't seem all that dangerous. I loved theearly 90's feel, and some of the bizarre visuals. Why exactly is the medical school in a cathedral or something? Why does Kevin Bacon abseil down a wall when he leaves school? A film where I would actually welcome a remake, as long at it took the core idea and explored it in a different way.
Luke Baldock
Super Reviewer
Flatliners Quotes
There are no approved quotes yet for this movie.