Flawless
(1999)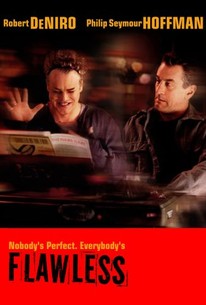 TOMATOMETER
AUDIENCE SCORE
Critic Consensus: Robert De Niro and Philip Seymour Hoffman's Flawless performances live up to this dramedy's title; unfortunately, they're outweighed by the misguided picture surrounding them.
Movie Info
Walt Koontz is a retired security guard, ultraconservative and proud of it, living in New York City's Lower East Side. Late one night, while trying to help neighbor in trouble, Walt suffers a stroke which leaves him with partial paralysis. Refusing to leave his apartment for therapy, Walt very reluctantly agrees to a rehabilitative program that includes singing lessons with a performer who lives upstairs -- a street-tough drag queen named Rusty.
Critic Reviews for Flawless
Audience Reviews for Flawless
I cannot believe that this film is so underrated... I found the story of Walter Koontz (Robert De Niro) - highly decorated "local hero" police officer - amazing! Well developed and done with warmness - warmness missing from most of the movies today! The real story starts when one night, Walter hears gunshots upstairs, and while ascending to help he suffers a stroke. Awakening with the right side of his body paralysed is something he is not used to, and his poor speech and posture gives a massive blow to his ego... so much that Walter becomes ashamed to be seen in public. Rusty (Philip Seymour Hoffman) is one of Walter's drag queen neighbours and the two are at-odds constantly due to their differing lifestyles. Rusty has a desire to undergo a transsexual operation, but lacks the money to do so. When Walter comes to Rusty to use his musical talents for voice lessons to overcome his impediment, the pair while at first argumentative and uncomfortable with the other begin to become friends. Good acting from two real stars, but nothing spectacular. The screenplay is sometimes very rough around the edges... but it is real as it can be... Joel Schumacher did well in that part, but the directing was too formulaic, and that is the reason for the lower rating! This film could be so much better if he was a little bit braver!
I enjoyed this movie far more than the rating implies. The problem I have with the movie is that it never really seems to stick to one form of storytelling. Sometimes it wants to be a comedy, sometimes it wants to be a drama, sometimes it wants to be a suspense (the Mr. Z part of the story, more specifically), but it never really manages to combine all three convincingly. There are plenty of movies that have gotten away with this because they know how to combine all the elements. It's an uneven movie in a lot of ways. It definitely could have been better, but I'm not complaining because I still really liked this movie. All of it has to do with the acting. Robert and Philip overcome the movie's unevenness and their performances are really good (though it's mostly Philip's performance). I liked the relationship between their characters and their interactions, however bare-bones they actually are. It doesn't go as deep (pun NOT intended...perverts) into the characters as I'd have liked, but they do just enough I guess. I also liked the characters of Rusty's friend. They were funny, especially at the end of the movie. Also, the movie near the end almost falls apart. It didn't, but it was not looking good at all. I could also tell, that if I was watching this movie alone I may not have liked it as much. Case in point, I watched Bad Company again (don't ask) and I enjoyed it more because I wasn't alone. Anyway, this is a good movie. If you have Starz On Demand then watching this movie isn't the worst thing you can do, especially with Did You hear about the Morgans? in there.
Jesse Ortega
Super Reviewer
½
Philip Seymour Hoffman's master-class performance as troubled drag queen Rusty sadly goes to waste in this laughable film. "Rusty" stands as the lone well-written character in this pathetic "drama". FLAWLESS's terrible directing, editing and writing, as well as its inappropriate soundtrack (a peppy samba for chase scenes/gunfights, really?) and a forgettable turn by Robert De Niro are no match for Hoffman's insane talent as a character actor.
Fernando Rafael Quintero Castañeda
Super Reviewer
Flawless Quotes
| | |
| --- | --- |
| Rusty Zimmerman: | On her knees at church begging Jesus, Mary, Joseph and every goddamned saint in heaven to forgive her for giving birth to Cruella de Fag. And being a slave to my father before he died. You would have loved each other. He thought Archie Bunker was a flaming Liberal. |
| | |
| --- | --- |
| Rusty Zimmerman: | You could never be as stupid as I think you are. |
| | |
| --- | --- |
| Rusty Zimmerman: | What are you, channeling Jesse Helms? |