Flesh And Bone
(1993)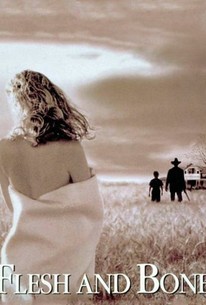 Movie Info
A traveling vending-machine salesman begins a romance with a young woman recovering from a bad marriage, but their love is threatened by the reappearance of the salesman's criminal father. This suspenseful drama chronicles the tense conflicts that follow, ultimately forcing dark family secrets to the surface.
Critic Reviews for Flesh And Bone
Audience Reviews for Flesh And Bone
[font=Century Gothic]In "Flesh and Bone", Arlis(Dennis Quaid) is a vending machine operator in rural Texas. His machines run the gamut from "Brainy Chicken" to condom dispensers. He has a regular schedule of dropoffs, pickups and women to take care of but no ambitions to spread his operations wider. But one evening, when attempting to order take-out food at a bar, he comes across a bachelor party where a stripper is scheduled to jump out of a cake, but Kay(Meg Ryan) has had too much to drink, and instead stumbles, vomits and passes out. After she wakes up the next morning and gets dressed, Arlis agrees to give her a ride home to Bayview.[/font] [font=Century Gothic][/font] [font=Century Gothic]"Flesh and Bone" is a very compelling, well-directed movie with some unexpected flashes of humor about whether nature or nurture shapes us the most as adults. The Texas countryside where time moves forward but not much changes is lovingly photographed. The movie is well-acted by a very capable cast.(Meg Ryan is an underrated actress, having performed well in "Hurlyburly" and "Courage under Fire". It is just when she acts cutesy that I have to reach for the air sickness bag. And Gwyneth Paltrow portrays dimwits well.) My main problem with the movie is that it all hangs on one very large coincedence. [/font]
Flesh And Bone Quotes
There are no approved quotes yet for this movie.