Flesh and the Devil
(1926)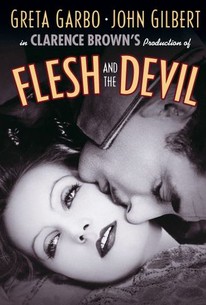 Flesh and the Devil Photos
Movie Info
Flesh and the Devil is a romantic melodrama that is most memorable for its nostalgic evocation of an impossibly elegant Austria, as well as for an erotically charged Communion service.
News & Interviews for Flesh and the Devil
Critic Reviews for Flesh and the Devil
Audience Reviews for Flesh and the Devil
½
One of the best romantic melodramas I've seen from the 20s so far. The acting is great, the story is heartbreaking, and the cinematography is really cool too. It's a really beautiful movie. The only thing I didn't like was the couple of boring scenes in the beginning. Overall, a great movie, though, I highly recommend it.
Famed silent is for the time period a well made melodrama. The story is of no real consequence and now seems very familiar as it probably was at the time of it's release. The communion scene is provocative, very erotic even today and must have been a sensation in '26. The real interest is of course the cast, Garbo especially. Of all the players she is the acting standout, with the exception of a few scenes her performance feels very naturalistic. The same goes for her appearance, whereas everybody else looks like they belong in the 1920's her unadorned hairdos and streamlined clothes convey a contemporary feeling, a flesh impact. Gilbert, who was then wildly popular, is a relic from a bygone era. He looks like he could be attractive but his ridiculous moustache and the heavy makeup required at the time sabotage his handsomeness. His acting is quite mannered and uneven, he was much better in The Big Parade, but he and Garbo share an undeniable chemistry. The real offender in overacting is Lars Hanson his eyepopping and herky jerky movements are a textbook example of the worst kind of silent screen performance, the impression that keeps a lot of people from giving silents a try. The other major person in this passion play is Barbara Kent as the angelic young thing in contrast to Garbo rapacious strumpet. Kent at 105 is the last remaining silent screen star still living although she turned her back on public life and has been a recluse since the 50's.
½
a little melodramatic for my taste but the romantic charms of vienna and garbo and gilbert's great chemistry carry the film. garbo was just 21 and soon moved in with 27 yr old gilbert who was a major star and already twice divorced. they became one of the most famous couples of hollywood's golden age both on and off screen.
Stella Dallas
Super Reviewer
Flesh and the Devil Quotes
There are no approved quotes yet for this movie.